Enviro receives pyrolysis oil order from Swedish fuel company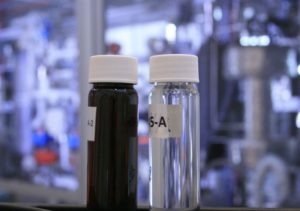 End-of-life tire recycler to deliver oil for production trials in first quarter 2023
Stockholm – Scandinavian Enviro Systems has received a SEK2 million (€180,000) order to supply pyrolysis oil from end-of-life tires to Swedish fuel company Preem.
The oil will be delivered in the first quarter 2023 and used by Preem for production tests, said Enviro in a statement 17 Nov.
Preem will use the delivered oil as a raw material to run production tests for different biofuels, according to Enviro.
"A large player in the oil industry in our own home market… provides important support for our expansion in both Sweden and internationally," said CEO Thomas Soerensson.
This oil will be produced at Enviro's plant in Åsensbruk where the company recovers oil, carbon black and steel from waste tires.
According to Enviro, Preem is Sweden's "largest fuel company" and has high environmental ambitions, including the production of 5 million cubic metres of renewable fuel by 2035.
Pyrolysis oil, Enviro went on to say, contains a high percentage of renewable material due to the high amounts of natural rubber found in the vehicle tires.
The new order follows a recent successful trial of the recycler's pyrolysis oil by a "leading US oil company".