High-value tires lead Pirelli growth plan for 2018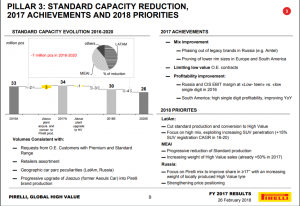 Milan, Italy – Pirelli & C. SpA aims to further increase sales of high-value tires, under a growth plan detailed in the company's annual results presentation.
The document, issued 26 Feb, builds on Pirelli's relaunch, last year, as a premium passenger car tire supplier after separating its industrial tire business into Prometeon Group.
Likewise, in its Middle East, Africa and India region, Pirelli said it would look at "progressive reduction of standard production".
Again, operations there will increase the proportion of high-value product sales, which already exceed 50% of sales in the region in 2017.
In Russia, meanwhile, the tire maker aims to improve its share in the 17'' and bigger market, "with an increasing weight of locally produced high value tire". It will also try to strengthen price position in the region.
Pirelli has previously outlined four categories of high-value products: Prestige which developed with car makers such as Ferrari, Bentley, Bugatti and Rolls Royce; New premium tires with diameter of 18 inches or more; Speciality tires including runflats and colour editions; and Premium moto, which are high-end motorcycle tires.
In 2017, Pirelli said its achievements included improving product mix. This included phasing out legacy brands, such as Amtel, in Russia, and pruning lower rim sizes in Europe and South America.
The tire maker said that it had also managed to limit "low value" OE contracts last year and improve profitability.
Another achievement in 2017, according to Pirelli, was its progress with integrated OE/replacement business management.
The Milan-based company said it "successfully redesigned" the management with first pilots of predictive/forecasting tools showing "encouraging results".
The company's digital transformation efforts include establishing a centralised plant-planning function working with new digital tools.
The 'prestige business unit', added Pirelli, "bore its first fruits", with increased OE market-share while a new "customise-to-order" supply chain was activated for colour edition.
For 2018, priorities will include reengineering and consolidating the "integrated business planning process", starting from Prestige, concluded Pirelli.