Henniges adds plant in China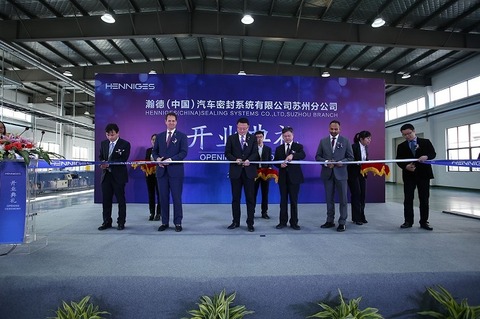 Suzhou, China — Henniges Automotive Holdings Inc. is expanding in China with the addition of a new manufacturing plant, its sixth in the country.
The firm has opened a 79,500-sq.-ft. site in Suzhou, located in the Taicang Port Economic and Technological Development Zone, and has the ability to double in size to support future business growth.
Investment details were not disclosed. The project has created 70 new jobs to date and is the firm's 23rd global facility—18 manufacturing sites and five research and development centres.
In addition to the six manufacturing sites in China, the firm also operates a technical centre.
"As the automotive industry evolves at an unprecedented pace, having flexibility in our facilities, operations and capabilities is an advantage that makes us more agile and responsive to our customers," Henniges President Larry Williams said in a statement. "In addition to changing industry demands, we've seen significant business growth in the Asia-Pacific region, which is why we have strategically designed a facility that meets our customers' current needs and can grow with them and us."
The plant will produce both thermoplastic vulcanizate and EPDM sealing products and will employ a quality management system using an electronic display integrated with the company's enterprise resource planning systems to provide instantaneous feedback.
Henniges added that it has plans for further expansions in 2018, including a new manufacturing plant in South America and expanding its engineering facility in Europe.
"This is an exciting expansion of our global footprint and one that will help us further establish our best practices in global engineering and strengthen our automotive sealing systems capabilities everywhere we do business," Williams said. "As a company that has provided sealing and anti-vibration technologies for more than 100 years, we pride ourselves on efficiently delivering solutions to our customers and tailoring our products to meet local standards; southern China will be no different."
Henniges provides automotive original equipment manufacturers with sealing systems for doors, windows, trunks, lift gates, sunroofs and hoods. The company also supplies the automotive market with anti-vibration components and encapsulated glass systems. It employs 7,700 worldwide.
The firmed is owned by Aviation Industry Corp. (AVIC), based in China.