Trelleborg launching smart wheel for farm equipment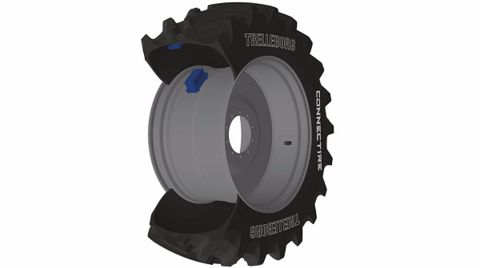 Trelleborg, Sweden — Trelleborg Wheel Systems has developed a sensor-based smart wheel called ConnecTire that it said enables data-sharing at multiple levels, reducing the risk of tire slippage on the rim.
ConnecTire monitors two key variables — tire pressure and temperature — in real time and relays the data to both tractor and farm mainframes via Bluetooth and wireless connectivity, Trelleborg said.
"ConnecTire is about ensuring efficiency and sustainability," Piero Mancinelli, R&D director at Trelleborg Wheel Systems, said. "Tires are required to work intelligently and to be at the right pressure at all times."
Operating farm machinery at the lowest safe pressure is a key challenge, Trelleborg said, ensuring minimum impact on topsoil. During operations tire pressure can change due to a number of factors, including ambient and soil temperatures, as well as the intensity of task being performed and the configuration of the machine itself.
"Being able to be in control of these allows farming operations to reduce inefficiencies," Mancinelli added, noting that the system allows operators to set their target tire pressure and then monitor how that pressure deviates from the target and act accordingly.
Should corrective action be required, ConnecTire automatically sends an alert via its App, ensuring minimum disruption and maximum machine safety.
Beyond tire monitoring, ConnecTire delivers further advantages:
An inbuilt GPS capability identifies the position of the tractor at any given moment, helping to keep lone workers safe and even safeguarding the tires and machine against risk of theft, Trelleborg said.
In addition, with the help of precision farming software, farm managers are able to track the number of machine passes over every square inch of land, helping to limit soil compaction and erosion as much as possible.
"Repeatedly driving over the same ground at different stages of the crop cycle has a long term impact on yield," Mancinelli said. "With ConnecTire, we saw an opportunity to help reduce this effect by providing the data that allows farms to identify at risk areas and mitigate this. Efficient use of land is essential and by reducing the number of machine passes, ConnecTire helps soil to rapidly recover fertility and yield potential."
ConnecTire will be on display at Agritechnica 2017, 12-18 Nov in Hanover, Germany.