Wacker expands silicone production in Brazil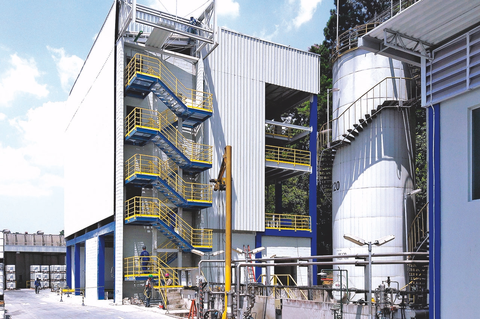 Jandira, Brazil – Wacker Chemie AG is expanding its silicone production at its Jandira site near Sao Paulo in response to regional demand for specialty silicones.
The 236,800- square feet facility, operated by Wacker Quimica do Brasil Ltd., contains local sales and marketing activities as well as its own silicone production. The expansion required adding only about 3,200 square feet, and Wacker is investing about $7.69 million (€6.87 million) total on the project, according to Adriano Magalhaes, managing director of Wacker Quimica do Brasil.
The expansion includes a new reactor for silicone fluids and a new plant for antifoam compounds. As the multi-purpose Jandira facility already manufactures silicone products, the main part of the expansion project can be handled by existing staff. So far, two additional jobs have been created by the project, Magalhaes said.
"This expansion is our response to the growing regional demand for specialty silicone needed in the textile, paper, household and personal care and cosmetics industry," he said. "The markets in Brazil, Argentina, Uruguay, Paraguay and Chile have seen steady growth, driven by increasing purchasing power that triggered higher consumption of cosmetics, higher production of (agricultural) products as well as more construction activities and investments."
The new production complex will function as part of the supply chain at the Jandira site. With the two new reactors, the company is able to produce important precursors and starting materials for specialised antifoam; impregnating and release agents; and additives for the pulp and paper, cosmetics and household care industries.
"With this, we can offer considerable added value to our local customers and partners. We will now have more flexibility to locally develop formulations that are in line with the regional demands of our customer and local industry requirements," Magalhaes said. "The new facility will make it possible to enlarge our portfolio and to reduce the lead times to deliver those solutions and thus help us to grow further."
The new facility is less about increasing the total volume of production, and is more focused on specialised and customised products, he said.
The reactor for the silicone fluids is scheduled for completion in the second quarter of 2017, while the plant for antifoam compounds is expected to come online by the end of the year.
The expansion is part of a larger plan to extend production, following up on several years of capital-intensive investments in large-scale plants, including completion of a polysilicon production site in Tennessee. Wacker's focus has shifted to plants for intermediates, sales products and specialty products, Auguste Willems, Wacker executive board member, said in a statement.
That includes the cost-efficient expansion of capacities for downstream products in growth regions of the world, including Jandira as a tactical point, said Magalhaes.
"The site is strategically located near Sao Paulo, only about 35 km (22 miles) away, and close to the main highways that connect us with the rest of the country," he said. "Additionally, the Santos port is only 120 km (75 miles) away, so the location is ideal for handling logistics and transport of our products as well as the required raw materials."
Currently, no future expansion projects are planned for the Jandira location or anywhere else in Brazil, but the company will monitor market developments and look for other opportunities, he said.