Apollo goes digital to meet truck tire goals in Europe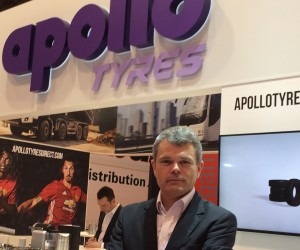 Birmingham, UK – Apollo Tyres has launched a new digital selling platform as part of plans to corner a 5% share of the truck & bus radial (TBR) tire market in Europe.
The launch follows the recent official opening of Apollo's greenfield tire manufacturing facility in Gyöngyöshalász, Hungary. The unit is initially producing passenger car tires with TBR production scheduled to start there by the end of 2018.
With the investment in Hungary, Apollo will start to make inroads into the European TBR market, according to Benoit Rivallant, group head, global product management, CV & OHT at Apollo Tyres PVT Ltd, based in London.
"There is this capacity [in Hungary] to make 675,000 tires a year and if you do the maths it is roughly 5% market share in Europe," Rivallant told ERJ in an interview at the Commercial Vehicle Show 2017, in Birmingham, 25-27 April.
"For the time being, these TBR tires are coming from India. But in one year's time the same tires will be produced in Europe," the Apollo executive emphasised.
According to Rivallant, Apollo has around 25% of the truck & bus radials market in India. The country, he said, is the third largest truck & bus tire market in the world, and bigger than Europe.
Over the last three years, he said, Apollo has developed and tested a new range of tires for the European TBR market. The company will pilot delivery of these products in the UK, Ireland, Belgium and The Netherlands, with Germany and other countries to follow.
But Rivallant admitted that Apollo is not that well known within the TBR sector in Europe – hence the need for an innovative "go-to-market" approach in the region through the ApolloTyresDirect.com portal.
This website allows the dealers and fleet managers to buy direct from Apollo using a "very transparent" pricing structuring and discounts for placing orders in advance. This, claimed Rivallant, will allow lower prices to the customer without compromising on quality.
"This a la carte pricing means you take control of what you want," he explained. "If [you buy] a minimum [of] six tires we are going to give you a first discount. But if you buy up to 100 tires because we make savings on the logistics, we pass the savings on to you."
And, he added, if a company "buys in advance every month, you help us also better plan production, we pass the savings on to you.
"You spend a few seconds on the webshop to confirm your order and one month later the tires will be there in your yard.  So it allows you to focus more on your operation and on what brings value to your fleets."