Bridgestone retains ranking as world's top tire maker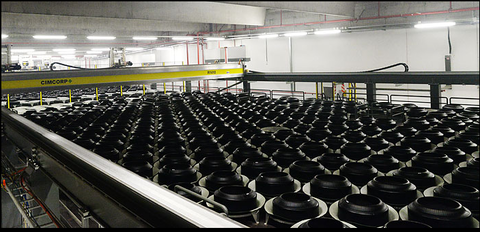 Akron, Ohio – After billions of dollars spent and millions of man-hours devoted to make, promote, distribute and sell their products, the world's top tire makers find themselves largely where they were a year ago in terms of who's the largest.
The pecking order for 2015 Top 75 tire makers ranking, compiled by ERJ sister title Tire Business, from largest — Bridgestone Corp. for the seventh straight year — through No. 17 — Apollo Tyres Ltd. — is unchanged from the 2014 ranking.
The first change in the ranking this year came at No. 18, where South Korea's Nexen Tire Corp. advanced from 22nd on the 2014 ranking as other companies in the $1.7 billion to $1.9 billion range suffered sales drops.
Overall, more than half of the companies reported lower sales in their respective 2014 fiscal years, which together with the impact of a strengthening dollar against most major currencies led to a drop of about 3.5 percent to leave the market just shy of $180 billion.
Bridgestone's estimated tire-related sales of $26 billion put it comfortably ahead of Michelin's $24.7 billion and Goodyear's $16.4 billion, according to research by Tire Business.
The rankings place tire makers based on their revenue from the sale of tires they've manufactured, excluding sales of non-tire products, such as auto-service-related revenue at company-owned retail stores, sales of steel cord, synthetic rubber or carbon black to third parties.
Bridgestone, Michelin, Goodyear and Continental AG, for example, report tens or even hundreds of millions of dollars in revenue from their respective captive retail networks, and Bridgestone, Michelin and Goodyear derive some revenue from the sale of synthetic rubber or other raw or semi-processed materials to third parties.
Bridgestone's position at the top is solidified by its minority ownership holdings in two other Top 75 companies—a 43 percent ownership stake in Turkey's BRISA/-Bridgestone-Sabanci Tire Mfg. (No. 35 with 2014 sales of $739.5 million) and a 15 percent stake in Finland's Nokian Tyres P.L.C. (No. 19 with $1.75 billion in sales).
Six of the companies ranked in the top 10—Michelin, Goodyear, Pirelli & C. SpA, Hankook Tire Co. Ltd, Maxxis International and Zhongce Rubber Group Co. Ltd.—reported lower sales in their own home reporting currencies, and the non-US companies also faced currency swings that devalued their reported sales figures.
Overall, 11 of the 20 publicly traded companies outlined in these rankings reported sales declines in 2014 compared to 2013.
Collectively, the top 10 tire companies accounted for 63 percent of the world's tire sales last year, based on the rankings numbers, essentially unchanged from a year ago, the first time in several years that the top tier has maintained its market share compared to the rest of the world's tire makers.
Continental was comfortably positioned at No. 4 with sales of $11.9 billion, ahead of the remainder of the Top 10: Pirelli, Sumitomo Rubber Industries Ltd., South Korea's Hankook, Japan's Yokohama Rubber Co. Ltd., Taiwan's Maxxis Inter-national/Cheng Shin Rubber Industrial Co. Ltd. and China's Zhongce Rubber Group.
Leading players in the European tire sector give their views and insights on global market trends in our new European Tire Report - published as a supplement in next edition of ERJ magazine, out soon. The issue also includes our new 2015 Americas Tire Map.
ERJ regularly updates its Tire maps and Regional Tire Reports, which are available for purchase on the Maps & Report page.