News from Tire Technology Expo 2023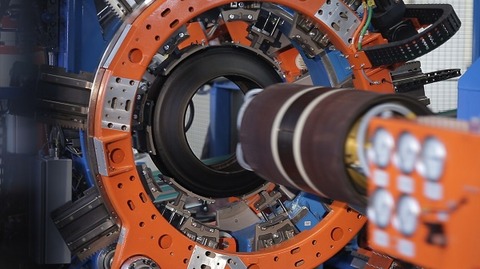 International exhibition and conference for tire-manufacturing technology being staged at the Deutsche Messe in Hanover...
International exhibition and conference for tire-manufacturing technology Tire Technology Expo 2023 is being staged at the Deutsche Messe in Hanover, Germany. The 21-23 March event features the world's leading suppliers to the tire industry, representatives from major tire makers and expert contributors from across the industry and academia:
Multiple awards for tire makers
Tire makers Continental, Michelin, Goodyear and SRI have scooped up double awards at this year's Tire Technology International Awards, held 21 March in Hanover. Read more
VMI launches 'game-changer' belt maker
At Tire Technology Expo 2023, VMI launched its new VMI UNIXX belt maker, which it says is a 'game-changer' in steel belt production. The new machine produces "high quality endless steel belts" by using an "innovative and accurately controlled" extrusion process that can handle a wide range of compounds. Read more
Cabot launches new technology platform for sustainable carbons
Cabot Corp has launched a new technology platform to advance sustainable reinforcing carbons. With Evolve Sustainable Solutions, Cabot said aimed to develop products that "offer sustainable content with reliable performance at industrial scale." Read more
Train strike alert for Tire Tech attendees
Hanover. Germany – Visitors to Tire Technology Expo 2023 have been warned to expect travel disruption during the event being held 22-23 March in Hanover. Read more
Siemens, Continental ink global automation deal
Just ahead of Tire Tech Expo 2023 major exhibitor Siemens announced a strategic agreement with Continental for the supply of automation and drive technology across the tire maker's facilities worldwide. As a "preferred supplier", Siemens will provide "innovative control and automation technology" to further optimise Continental's global tire production, the automation vendor explained… Read more
Versalis showcasing sustainable materials advances
At Tire Technology Expo, Versalis is showcasing its latest R&D and elastomers portfolio innovations, with a focus on the circular-economy and sustainability. Features include the group's Revive range of products with different polymer bases – styrenics, elastomers and polyethylene – containing recycled raw materials… Read more
ZF launches 'tire efficiency tester'
ZF Test Systems will display its newly launched tire test bench – the tire efficiency tester (TET). The main task of the TET is to determine the energy efficiency and rolling resistance of a tire. According to ZF, the machine provides a 'simple design' in all areas without compromising measurement accuracy. Read more


Himile offers electrically heated vulcanisation technology
Chinese manufacturer Himile is launching an electric heating vulcanisation technology, using electricity to replace traditional steam heading vulcanisation.The technology aims to respond to increasing demand from the industry to move towards carbon neutrality, energy conservation and emission reduction. Compared with traditional steam heating technology, the company says its new technology could bring 30% or more energy saving during vulcanisation.