How VMI is dealing with supply-chain pressures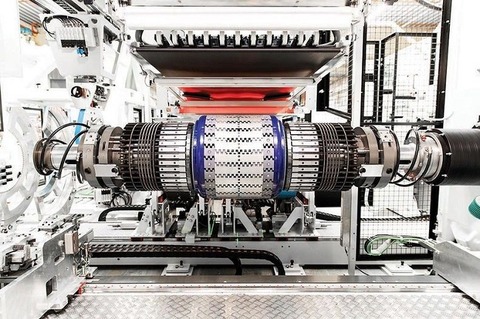 Leader explains how Dutch-based tire & rubber machinery maker is managing these on-going challenges
With shortages of components and other supply-chain pressures still impacting the industry, Harm Voortman, president & CEO of VMI explains here how the Dutch-based tire & rubber machinery maker is managing these issues:
VMI Group, like many other machine manufacturers in the industry, suffered from shortage of components. At the end of 2020, early 2021, we already had indications that supply of certain components might become a problem.
Combined with the fact that we achieved record levels in order intake, it was clear to us that we had to react swiftly. Therefore, we ordered a lot of components upfront and very early and used this to build up our stock levels.
This helped us to get pretty well through what we now see as phase 1 of the supply chain disruptions. When it became apparent that the shortages of components increased, our stock levels decreased and our order intake further grew, we entered into phase 2.
'Test kits'
During this phase we made sure to maintain efficiency and flow in our increased production levels by using 'test kits'. These were made up of scarce components and after finishing complete machines and thorough testing, we took these components out and used them for the next machine in production.
The now incomplete machine was in the majority of the cases sent to the customer's site and installed as far as possible.
Obviously, you can only do this in close cooperation with your customer. When the missing components were delivered to VMI we finished the installation of the machine on site. In this way, the delay for the customer was minimised and sometimes even nil.
Certainly in the beginning, when the components would arrive during the installation and commissioning, the machines were 'on time' ready for production.
Slowly we entered into phase 3, where certain components were so much delayed that we had to store incomplete machines and finish them later as sending them to the customer was no longer an option.
To optimise our supply of components and improve the situation, we have been working very closely together with our suppliers. We supported them where we could during re-engineering phases and in some cases we could even help them to get missing parts through our vast network.
The close connection was deliberately at all levels: not just on the regular supply/sales side, also at C-level and at production of our suppliers themselves. This helped us to get a better view on when missing parts would actually be delivered so that we could optimise our production and inform our customers on progress better.
Furthermore, we were in many cases able to influence the development roadmap of our suppliers to better fit with the technology roadmap of VMI. And, I am sure that it helped us to get in a preferred position and become the "customer of choice" for our suppliers when scarce parts were actually available and had to be divided over many customers.
Digital tools
To minimise the effect for our customers and our own production, we developed quite a lot of digital tools. These helped us to have a better view on when projects would be complete and manage the disturbances in production and in field service.
Very important: it is essential to have a clear and open communication with your customers to cope with these disruptions and manage the situation.
All-in-all, by thinking in an innovative way, we have put tremendous effort into minimising the effects [of component shortages]. In our global planning, we estimate the supply-chain disturbances to continue to have an effect in first half of 2023.
All our efforts are focused on meeting the targets of our customers and increase production levels swiftly in order to cope with current record levels in order intake.