Butadiene sinks further as synthetic rubber prices decline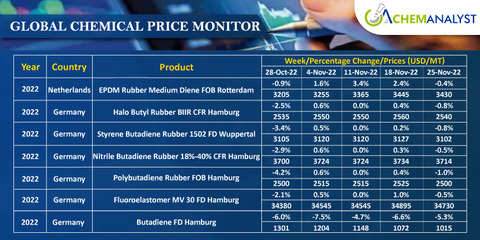 Trend reversal after three weeks of positive development for synthetic rubber futures
London – Synthetic rubber* futures saw a trend reversal during the trading week ended 27 Nov, as all commodities observed by ERJ posted a decline in prices. (Click on table to enlarge)
Butadiene prices continued to decrease across the global market during the trading week, posting a 5.3% week-on-week drop as demand remained subdued amid fears of a looming recession.
According to the latest ChemAnalyst data, collected for ERJ, other commodities reversed a positive run established in the first three weeks of November, with polybutadiene rubber posting the biggest fall of 1% week-on-week.
EPDM, halobutyle, nitrile and styrene butadiene rubbers saw marginal declines week-on-week, after posting recoveries during the weeks before.

*Synthetic rubber prices compiled exclusively for ERJ:
EPDM medium diene FOB Rotterdam, The Netherlands
Halobutyl rubber BIIS CFR, Hamburg, Germany
Styrene butadiene rubber 1502 FD Wuppertal, Germany
Nitrile butadiene rubber 18-40% CFR, Hamburg, Germany
Polybutadiene rubber FOB, Hamburg, Germany.
Fluoroelastomers MV (25-61) FD Hamburg
Butadiene FD Hamburg