Maplan advances "one-for-all control" system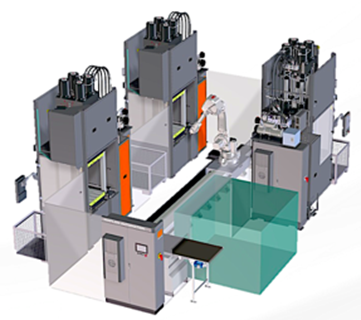 Austrian moulding machinery maker debuting automated cell, based on modular concept
Nuremberg, Germany – At DKT, Maplan is debuting an automated cell, based on a modular concept with a "one-for-all control" system for the injection moulding machine, supported by "ease of use" integrated automation components.
The Austrian company's "same-control concept" encompasses identical controllers/interfaces for the machine and automation components inside the production cell.
Operators, therefore, get an overview of all processes, while using controls with a familiar look and feel.
Maplan is also introducing a redesigned horizontal machine series, with a lubrication-free platen runner system with linear bearings on the base frame. Elimination of tie-bars, lower guide friction and a fast-reacting servo motor main drive increases speed and reduces energy usage.
According to the company, total machine cure time is reduced by up to 20% – along with lower energy consumption – compared to the predecessor.