Bridgestone invests in tire sensor, data technology company Tyrata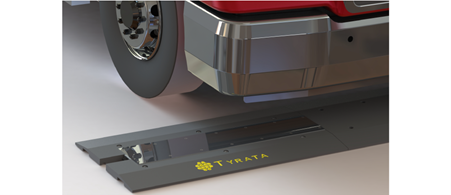 Partnership to enable tire maker to offer more 'sustainable, efficient and cost-effective' fleet management
Nashville, Tennessee – Bridgestone Americas has made a minority investment in tire sensor and data management company Tyrata Inc. as part of the strategy to advance its solutions business.
Using an automated drive-over system that measures tire tread, Tyrata collects tire wear data and provides cloud-based analytics, said Bridgestone in a statement 3 March.
The Japanese tire maker expects the investment to accelerate its efforts to deploy advanced mobility solutions that improve fleet safety, efficiency and sustainability.
"With Tyrata's unique technology, more fleets will have the opportunity to optimise their tire programmes, enhancing safety and reducing environmental footprint," said Brian Goldstine, president of mobility solutions, Bridgestone Americas.
Tyrata has developed IntelliTread technology, which replaces manual yard-checks with a drive-over system that features weather- and dirt-resistant sensors for 'consistent and accurate' tire tread depth measurements.
The system also has the ability to detect irregular wear patterns, according to Bridgestone.
In addition to Tyrata's technology, Bridgestone's fleet management portfolio includes: IntelliTire, a commercial truck tire pressure monitoring system; REACH, a cloud-connected platform that manages fleet service events; and Azuga, a fleet management software system featuring GPS tracking, video telematics and driver behaviour management.