Tire technology key to vehicles of the future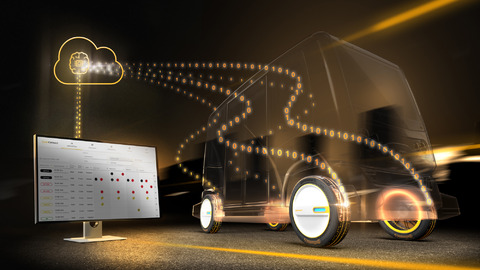 Advanced rubber technology enabling automotive majors extend the capabilities of EVs
Acceleration in the demand for and development of electric vehicles is strengthening collaboration between automotive manufacturers and tire makers – as evidenced by the latest innovations.
Typifying the trend is Mercedes-Benz, which has employed Bridgestone tire technologies on its Vision EQXX electric vehicle, which is claimed to deliver new levels of range and efficiency.
With an energy consumption of less than 10 kWh per 100km, the concept vehicle has a range of more than 1,000km on a single charge using a battery that would fit even into a compact vehicle.
"Rethinking the fundamentals from the ground up," the company said it designed the vehicle with an advanced electric drivetrain, lightweight engineering, sustainable materials and innovative, intelligent software.
Among many listed features on the Vision EQXX, Mercedes-Benz highlighted the role of the Bridgestone wheel and tire technologies, which are optimised for rolling resistance and aerodynamics.
Working with the tire maker, Mercedes-Benz said its engineers "took advantage of Bridgestone's Turanza Eco tire combined with lightweight and environmentally friendly Enliten and ologic technology enabling ultra-low-rolling-resistance."
The tire design, it noted, also features "aerodynamically optimised sidewalls to match the covers mounted on the 20-inch, lightweight, forged-magnesium wheels."
"The technology programme behind the Vision EQXX will define and enable future Mercedes-Benz models and features," said Markus Schaefer, member of the board of management of Daimler AG and Mercedes-Benz AG, CTO responsible for development and procurement.
"And the way we developed it is as revolutionary as the vehicle itself," added Schaefer. "Vision EQXX has seen the best minds from our R&D centres work together with engineers from our Formula 1 and Formula E programmes.
"We are challenging current development processes with innovative spirit and outside-the-box thinking. This truly is the way forward."
Pirelli has developed tires "made from recycled and renewable material" for the Volvo's electric Concept Recharge, the vehicle manufacturer announced in a release to introduce its latest electric car developments.
The concept vehicle is a core part of the Swedish company's plans to sell only fully electric cars by 2030, towards becoming a climate neutral and circular business by 2040.
With the internal combustion engine making way for the pure electric powertrain, tires will play an even more important role in vehicles of the future, according to Volvo.
"Not only are they crucial for safety, [tires] also contribute largely to the vehicle's battery range," said Volvo. "This means tires for electric cars always have to be on top of technology development."
The Concept Recharge features special tires made by Pirelli, which are "completely free from mineral oil and are made from 94% fossil-free materials," Volvo said.
These, it said, include recycled and renewable materials such as natural rubber, bio-silica, rayon and bio-resin.
"This reflects the circular approach shared by Volvo Cars and Pirelli, with a focus on reducing resource consumption and environmental impact," stated Volvo.
In addition to the sustainable tires, Volvo said it had improved the overall efficiency of the car to extend its range – instead of adding more batteries which 'add weight and increase carbon footprint'.
The car's interior and exterior design also feature sustainable materials including both natural and recycled components.
Among other products, Volvo said it used "responsibly sourced Swedish wool", "environmentally responsible textiles" and lightweight flax composites from natural sources in the concept vehicle.
According to the Swedish car maker, the combination of the sustainable materials has reduced the carbon impact of the car significantly.
With the use of clean energy throughout a decarbonised supply chain, manufacturing process and use phase of the car, Volvo said it believed that it can reduce a car's lifecycle CO2 impact by 80% versus a 2018 Volvo XC60.
"This would mean that the Concept Recharge would have an overall life cycle CO2 impact below 10 tonnes, when charged with 100% renewable energy," it added.
Elseware, Cadillac has unveiled its latest luxury concept vehicle InnerSpace featuring Goodyear tires for extended comfort.
Displayed during the Consumer Electronic Show (CES) in Las Vegas on 5-8 Jan, the concept car is "a dramatic, two-passenger electric and autonomous luxury vehicle" designed to provide "effortless travel."
Among other 'cutting-edge features', InnerSpace's tires, developed by Goodyear, are designed to contribute to its solace, said a Cadillac statement 5 Jan.
The tires feature SoundComfort technology designed to help mitigate soundwave resonance within the tire for a quiet ride.
On the sustainability front, the tires are made with soybean processing oil and rice husk-based silica, which replace petroleum-based materials as key ingredients.
Goodyear also included its SightLine intelligence technology in the tire, which conveys data about the tire pressure, temperature, load and performance.
Unveiled last June, SightLine uses sensors with cloud-based algorithms to communicate with fleet operators in real-time. The technology is currently available in North America and Europe.
InnerSpace is part of Cadillac's Halo concept portfolio of vehicles, first introduced last year at CES.
The portfolio, according to Cadillac, envisions to move passengers "in a luxurious environment" while enhancing their well-being.
Conceptually, the portfolio repurposes how passengers use their time while travelling and is claimed to provide "a space for solace and respite."
Other technologies used in the vehicle include biometric input and AI machine learning.