Bridgestone, Goodyear to start tire-distribution JV in North America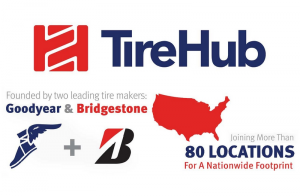 TireHub will be based in Atlanta and managed by an independent management team led by CEO Peter Gibbons, a veteran business and supply chain executive.
The announcement was made 16 April after the close of the business in a news release distributed by both tire makers.
TireHub will combine Goodyear's company-owned wholesale distribution network with Bridgestone's Tire Wholesale Warehouse (TWW) subsidiary, the venture partners said.
The transaction is subject to customary approvals and is expected to close mid-year.
The total estimated fair value of the joint venture is expected to be approximately $600 million (€485 million), according to a Goodyear 8K filing with the Securities and Exchange Commission.
The parties estimated start-up costs will be approximately $40 million and will be shared equally. These costs are related primarily to information technology infrastructure, initial staffing requirements, and other administrative costs, Goodyear said.
The creation of TireHub comes four months after Michelin North America Inc. (MNA) and Sumitomo Corp. of Americas (SCOA) agreed to combine Michelin's wholesale distribution activities with TBC Corp.'s wholesale assets into a 50-50 joint venture, to be called National Tire Wholesale (NTW).
The new distribution company will complement both companies' networks of existing third-party distributors and provide a fully integrated distribution, warehousing, sales and delivery solution following completion of the transaction, the parties said.
The partners stressed that TireHub will help provide them with the resources to help their customers manage growing complexity in the tire business, driven by SKU proliferation and rapidly growing demand for larger rim diameter premium tires.
"It's critical for U.S. tire dealers and retailers to be able to get the right tires on time to meet the needs and expectations of their customers," said TJ Higgins, president, integrated consumer tire group, U.S. and Canada, Bridgestone Americas.
"TireHub will help position dealers to win in today's dynamic and increasingly complex environment by giving them much needed access to a deeper and broader range of passenger and light truck tires from Bridgestone," he said.
At launch, TireHub will have the scale to reach the vast majority of retail locations in the US daily, the partners said.
"With the ability to deliver the full portfolio of Goodyear products and a dedicated focus on driving logistics and customer service excellence, TireHub creates a winning proposition for us, our customers, Goodyear's company-owned retail outlets and consumers, whose expectations and shopping patterns continue to evolve," Goodyear Americas President Steve McClellan said.
Both Bridgestone and Goodyear said they expect TireHub will provide enhanced fill rates and turnaround times to ensure dealers can access products they need quickly.
The partners said they expect TireHub will deliver a "best-in-class" customer experience through a single sales force and new online ordering portal that integrates easily with dealers' point-of-sale systems.
The venture partners put the existing sales volume of their respective wholesale businesses at 10 million units annually. In addition, Goodyear said it intends to "reposition certain existing third-party sales volume to TireHub beginning during the second quarter of 2018."
Goodyear said it expects the deal to generate an incremental $80 million to $100 million in annual segment operating income in 2019 and 2020, vs. 2018.
TireHub also will help Goodyear and Bridgestone customers manage growing complexity in the tire business, driven by SKU proliferation. The new distributor will provide on-demand access to the full array of products from both companies, which is critical for their customers, who typically have limited inventory space at their locations.
Mr. Gibbons joins the new venture from CP Kelco, a division of the J.M. Huber Corp., a manufacturer of biopolymers, where he was a director for the past six-plus years. He also held executive vice president positions at Mattel Inc. and Starbucks.