German car market falls 3% as diesel decline accelerates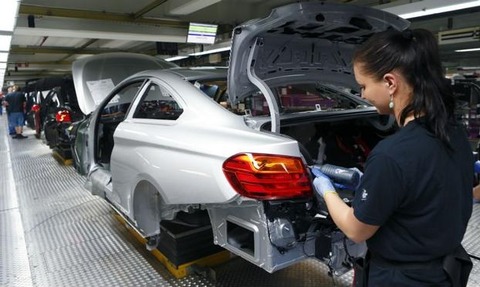 Frankfurt, Germany – Registrations in Germany fell 3.4% in March with the decline in diesel-car sales accelerating after a court ruled that cities can ban vehicles to tackle pollution.
Total market registrations dropped to 347,433, the country's Federal Motor Vehicle Authority, the KBA, said in a statement on Wednesday.
Sales of diesel cars fell 25%, giving diesel a share of 31.4% of Germany's market. Registrations of gasoline cars rose 9% for a 64% market share.
A court decision last month allowing German cities to make their own decisions regarding banning some diesel vehicles from their streets will likely impact future sales in the market.
To stem the plunge in diesel sales, automakers including Volkswagen and Daimler have extended incentives for buyers of new diesel cars. But fears among drivers of possible restrictions and short supplies of vehicles with the latest Euro 6d generation of diesel engines will weigh on sales in coming months, analysts said.
"For the time being, new diesel sales will not recover," Peter Fuss, a senior partner and automotive specialist in consultancy EY's German practice, said on Wednesday. "Rather, the downtrend looks set to continue in coming months," he said.
Fuss predicted that the share of diesels of Germany's overall auto market would sink towards 25% from the current 31%.
A global backlash against diesel cars broke out after Volkswagen admitted in 2015 to cheating US exhaust tests. The scandal has spread across the industry and boosted investment in electric vehicles.