Goodyear suffers double-digit earnings drops, Q4 net loss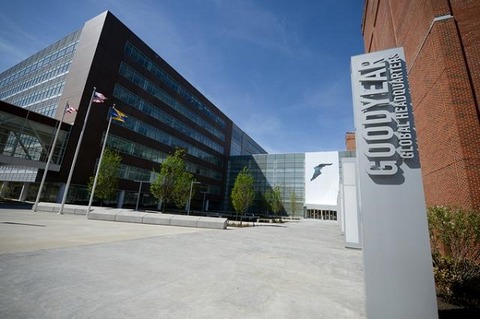 Akron, Ohio — Goodyear suffered double-digit drops in segment operating income for the quarter and fiscal year ended 31 Dec and reported a tax-reform-related net loss for the quarter.
Goodyear cited elevated raw materials costs and the "unfavourable" impact of reduced production volumes on costs for the operating earnings declines, and said the fourth quarter loss was driven by a $299 million (€244 million) one-time, non-cash tax charge related to US tax reform.
The tire maker's sales, on the other hand, rose 8.8 and 1.4% in the quarter and year, reflecting the positive effects of improved price/mix and favourable currency translation and volume.
Unit volumes were up in the quarter but down for the year, Goodyear said.
Segment operating income dropped 12.5% in the quarter to $419 million, while sales rose to $4.07 billion, resulting in a 10.3% operating ratio, down two points from a year ago.
For the year, segment operating income fell 23.3% to $1.51 billion on revenue of $15.4 billion, yielding a 9.8% operating margin, Goodyear said. Net earnings plunged 71.4% to $346 million.
Goodyear photo Goodyear Chariman, CEO and President Richard Kramer addresses attendees of Goodyear Conference in January.
Despite the lower earnings, Goodyear Chairman Richard Kramer said the company's "strong volume recovery in the quarter gives us positive momentum as we head into 2018.
"These results reflect the power of the Goodyear brand across all of our regions," he said. "Our strong global brand is integral to Goodyear's connected business model which combines innovation and technology leadership, industry-leading products, aligned wholesale and retail distribution and provides us with a competitive advantage."
Kramer pointed to Goodyear's strong performance in the higher value-added larger rim-diameter (17 inches and larger) segment, which delivered "nearly double the industry growth" in the US and European replacement segments.
"Looking ahead to 2020, I am very confident in our capability to execute our long-term strategy to capture profitable growth in key market segments and deliver significant growth in earnings," he added.
For 2018, Goodyear said it expects full-year segment operating income to be between $1.8 billion and $1.9 billion and to keep rising with a target of $2 billion to $2.4 billion by 2020.
In its Americas business segment, Goodyear saw operating income drop 29.2 and 28.3 percent for the quarter and fiscal year, for the same reasons already outlined.
Sales in the segment rose 6 and 0.5 percent for the quarter and year, respectively, to $2.18 billion and $8.21 billion, reflecting a 4.3% rise in unit volume in the fourth quarter. Replacement tire shipments were up 5%, Goodyear said, driven by an increase of 8% in US consumer replacement. Original equipment unit volume was flat.