Datwyler posts higher sales, record profit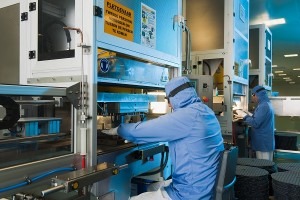 The earnings figure was a record for the Swiss group and equated to an EBIT margin of 12.6%, according to Datwyler's results announcement issued 6 Feb.
Adjusted for positive currency and acquisition effects, the resulting organic revenue growth was 2.9%. Before CHF9.9 million in one-off costs – mainly to develop a new enterprise hub in Manchester – adjusted EBIT reached CHF172.5 million, taking adjusted EBIT margin to 13.4%.
Datwyler said it now expects to accelerate the "profitable growth path" in 2018 and has increased the target range for the EBIT margin to 12-15%.
The group went on to say that it had "sharpened its strategic priorities and aims to accelerate digitalisation and increase agility."
"The strong demand for sealing components from the healthcare and automotive industry and the repositioning of online distribution are offering attractive opportunities. I am convinced that, with our sharpened strategic priorities, we can further accelerate profitable growth in the future," commented CEO Dirk Lambrecht.
At the Sealing Solutions division, net revenue rose 10.6% year-on-year to CHF832.8 million, including 6.1% organic growth. Demand for healthcare components remained strong, while Datwyler noted a continuation of "dynamic growth" in demand for automotive components in China.
The company said its Nespresso business "continued to develop nicely," adding that it had extended its collaboration with Nespresso, with a new multi-year contract.
Operating profit (EBIT) at the sealing business increased by 10.9% to CHF151.6 million, as efficiency gains offset "slightly higher" raw material prices and one-off costs for projects.
Datwyler's Technical Components division, meanwhile, achieved revenue growth in the core business-to-business activity of online distribution brands Distrelec and Reichelt during the second half of the year.
Net revenue at the division for the year as a whole fell slightly to CHF458.6 million, while the adjusted operating result (EBIT) before one-off costs of CHF 9.7 million – mainly related to the development of the new Distrelec enterprise hub in Manchester – increased to CHF20.7 million from the prior-year CHF18.9 million.