Michelin, Sumitomo form wholesale JV in US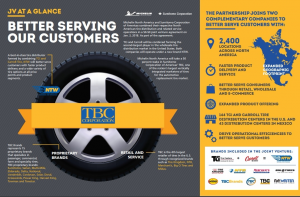 Greenville, South Carolina – Michelin North America Inc. (MNA) and Sumitomo Corp. of Americas (SCOA) have agreed to combine Michelin's wholesale distribution activities with SCOA's TBC Corp.'s wholesale assets into a 50-50 joint venture.
NTW will be the second-largest player in the US wholesale tire market, combining Michelin's 85 TCi and TBC Corp.'s 59 wholesale distribution locations.
American Tire Distributors Inc. is considered the largest US wholesaler, with sales in excess of $5 billion.
Michelin will acquire a 50% stake in TBC Corp., as part of the deal, which includes its retail operations as well as the creation of the new entity NTW Wholesale, MNA chairman and president Scott Clark told Tire Business.
Clark said TBC stores will remain the same and won't become Michelin-branded stores.
"The focus for us has been increasing the size and scale of the brand offering and geographic footprint of the wholesale business through NTW," Clark said. "Our retail strategy will not change whatsoever."
The deal, which also includes TBC de Mexico, is subject to customary approvals and could close in the first quarter.
This new company "will provide better availability of tire products at all price points across North America, achieving greater scale in wholesale delivery for customers," Michelin said.
Michelin is contributing a cash payment of $630 million in addition to the TCi Wholesale assets to the venture to match the $1.52 billion in "enterprise value" of TBC's assets.
TBC's retail and proprietary brands businesses are part of the venture but will be unaffected by the formation of the new venture, Michelin said.