Nexen breaks ground on Ohio technical centre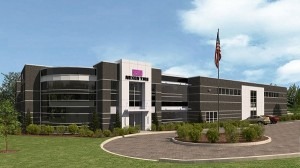 Richfield, Ohio—Nexen Tire Corp.'s technical presence in the US is about to get significantly bigger.
The company broke ground on its 34,000-sq.-ft. technical center in Richfield on Oct. 17, which represents about a $5 million investment, not including additional equipment. The project is set to become operational by the end of 2018.
Nexen project engineer Gary Zolton said employment is projected to reach 40 people, up from 17, within five years after the new unit is operational.
"Nexen is very committed to the North American market, and this center we're building is a testament to that," Nexen project manager Aaron Neumann said.
The firm currently operates out of two buildings in Richfield—a 8,000-sq.-ft. office and a 5,000-sq.-ft. development space. The new site will bring all of Nexen's operations under one roof with a warehouse capable of housing up to 3,000 tires.
Half of the new technical facility will consist of office space. The other half, in addition to the warehouse, will house labs for compound development, tire forensics and noise, vibration and harshness evaluation. It also will house test machines for rolling resistance and high-speed uniformity.
The centre currently develops tires for the original equipment and consumer markets, conducts compound and material research, evaluations for performance and NVH, mold design, tire styling, and finite element analysis.
Fiat-Chrysler is one of the firm's major OE customers. Neumann said the firm has major fitments on almost all of FCA's Dodge Ram vehicles with another one to be introduced in 2018.
The company does not have manufacturing in North America, but operates three plants globally—two in South Korea and another in China. A fourth plant in the Czech Republic is set to come online in 2018. The 7 million-sq.-ft. plant is projected to eventually produce more than 12 million units annually and create more than 1,000 jobs.
Nexen has increased its tire capacity from 39 million in 2015 to a projected 44 million by 2018 and is aiming to hit 52 million by 2021 as its Czech operation scales up.
"The core strength of our company is the factories," Neumann said. "We have state of the art factories and our factory that supplies the U.S. market in (South) Korea is brand new. It's filled with top of the line equipment, a lot of it made right here in Ohio."
The technical centre could be just the beginning, Don Lee, the facilty's director of technology, said the firm plans to establish a manufacturing presence somewhere in North America—ideally the US—by 2021. He added that the centre would be the base for technology to support the firm's production if/when it's established.
"Everything is still on the table, it hasn't been decided," Zolton said. "Certainly from our point of view it'd be nice to have it in the U.S., but it's whatever makes the most sense for supply, demand and the situation."
The plant would serve both the North and South American markets.
"Nexen was strategically a local company and now in the last 10 years it's broadened its base to be a global company," Zolton said. "We have the plant in Czech Republic coming on board, we have the plant in China, so the logical step is to service this market more efficiently. Some of our OEs that we talk to, basically they really want production here. That's very important to us."
The firm also showcased some of its future technology concepts—which include connectivity solutions to relay more information back to the cabin and sealants to avoid tread punctures.
Neumann said Nexen's vision for the autonomous vehicle future, whenever it may arrive, will include a drastically different perspective when it comes to tires: they will need to become invisible. With autonomous and even electric vehicles drastically reducing engine noise, the quiet environment will enhance the other noises present. Nexen's goals are to make sure consumers enjoy a quiet ride without any disturbances.
Neumann added that the customer might not even own the vehicle as self-driving fleets will likely look a lot like the current truck/bus market, which are controlled by fleet managers.
"We want it to be quiet, comfortable and get traction in all weather conditions so the customer doesn't notice it," Neumann said. "We want no more flat tires or interruptions in travel so the customer doesn't have to deal with that. We don't want the customer to worry about the tire pressure or the worn tire condition, or worry about buying new tires."