Remaining materials burn at Arkema plant, residents return home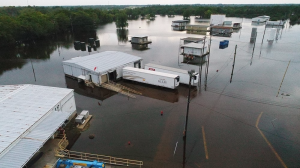 Crosby, Texas—Residents are returning to their homes in Crosby after officials launched controlled fires at the Arkema Inc. plastics catalyst plant that was damaged by flooding from Hurricane Harvey.
Company officials, the Crosby Fire Department and government officials set the fires after 5 pm 3 Sept.
The remaining six containers storing organic peroxide products burned themselves out. At 2 am on 4 Sept authorities decided that it was safe for residents to return, so the 1.5 mile evacuation zone surrounding the facility was lifted.
Arkema said it was opening an assistance centre at Crosby High School to help those people who were affected by the evacuation order.
Officials decided to conduct what they called a controlled ignition of remaining trailers rather than risk additional damage to the facility or spreading into the surrounding area.
As of 3 Sept, multiple trailers of organic peroxide had caught fire after refrigeration units were compromised by catastrophic flood waters from Hurricane Harvey. The site lost power 28 Aug when flooding began, and when refrigeration units failed and Arkema was not able to keep the organic peroxides stable.
Daryl Roberts, the firm's vice president of manufacturing, technology and regulatory services in the Americas, said about 500,000 pounds of the liquid material remained at the site as of the morning of 1 Sept, but shortly after 5 pm Central time, fires ignited in two more containers holding the material, Arkema said in a news release.
The Crosby plant makes liquid organic peroxides that are used primarily in the production of polystyrene, polyethylene, polypropylene, PVC and acrylic resins, as well as polyester-reinforced fiberglass.
The outage also could affect resin makers' abilities to produce their materials, according to Clifford Lee, a market analyst with the Townsend Solutions consulting firm in Houston.
"Arkema is a big supplier of organic peroxides, and Crosby is a big plant," Lee said 31 Aug.
Arkema is a global supplier of specialty chemicals and plastics, based in Colombes, France, with North American headquarters in Philadelphia. The firm posted sales of almost $9 billion in 2016.