Trelleborg launches REACH-compliant polyurethanes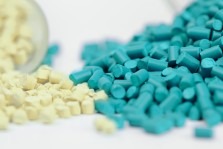 Trelleborg, Sweden – Trelleborg Sealing Solutions has launched two heat-resistant polyurethane materials that conform to new EU REACH environmental standards coming into force from November, the company said 11 Aug.
The products, labelled Zurcon Z53 and Zurcon Z54, have been developed over a long R&D cycle to meet EU requirements regarding substances prohibited unless an exemption applies or an authorization is granted, said the company.
The grades will supersede the Zurcon Z51 and Z52 as materials for slipper seals and scrapers used in demanding fluid power linear and rotary applications, including the tough conditions faced in mobile, construction and mining applications.
Meeting REACH regulations is extremely important for polymer and elastomer seals, said Thomas Larsen, Material Development Engineer at Trelleborg Sealing Solutions.
"We especially respect the objective of the regulations to protect human health and the environment from chemicals; a philosophy that fits perfectly with Trelleborg's objectives for our products to seal, damp and protect," said Larsen.
The new products, claims Trelleborg, have the same performance characteristics of the materials they replace but offer 20°C higher operating temperatures in water and water-based fluids – from +40°C to +60 °C.