Serbia courting Linglong for European tire plant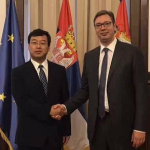 Belgrade, Serbia - Add Serbia to the list of countries courting Linglong Group Co. Ltd. as the potential site in Europe for a tire plant the Chinese tire maker is considering.
Linglong already has acknowledged interest from Belgium, Czech Republic and Slovak Republic for the possible plant, which would be the Chinese company's second outside of China.
Most recently, Linglong Chairman and President Wang Feng met with Serbia's new president, Aleksandar Vucic, during Mr. Vucic's swearing-in ceremony on June 23 in Belgrade.
During that time, representatives of Serbia's development office and development bureau gathered to discuss on the prospects and opportunities of building One Belt and A Road, mainly concentrating on the problems such as land, transportation, tax policy and labor visa, Linglong said.
Linglong — the world's No. 20 tire maker with 2015 sales of $1.35 billion — is pursuing a "3+3" strategy, which envisions three plants in China and three based overseas with combined annual capacity of 90 million tires.
The company opened its first overseas plant in 2014, a passenger tire factory in Chonburi, Thailand, and added capacity in 2015 for truck/bus tires and earlier this year disclosed plans to add capacity for 400,000 bias-ply tires there.
Linglong has as yet not disclosed what size plant or scale of investment it's considering for the plant in Europe.