Conti partners with Chinese internet major Baidu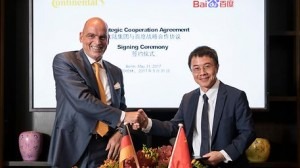 Berlin – Continental has signed a strategic cooperation agreement with Chinese internet company Baidu in the areas of automated driving, connected vehicles and intelligent mobility services, the German group announced 31 May.
Under the deal, Continental and Baidu will explore collaboration in sensor systems and software for advanced driver assistance systems and automated driving, applications for Baidu's Apollo platform. This encompasses artificial intelligence, cyber security and connected cars, as well as road test, data collection and analysis for automated driving.
The technology-exchange, said Conti, will leverage the companies' capabilities in automotive components and Internet technology through a technical alliance. Both partners, it added, aim to develop technologies, products and business models that provide effective solutions for automated driving, connected vehicles and intelligent mobility services.
"Continental develops and provides pioneering technologies and services for the mobility of tomorrow. Baidu is one of the most important Internet companies in China," explained Dr. Elmar Degenhart of the German group. "With our strategic collaboration, we will take intelligent mobility an important step further."
Artificial intelligence has great potential to drive social development in areas such as intelligent vehicles, according to Qi Lu, Group president and chief operating officer of Baidu
"By joining hands with Continental, we are striving to upgrade intelligence in the automobile industry and develop a new ecosystem of intelligent mobility and automated driving, thus empowering existing industries and new ones," said the Baidu leader.