Solvay claims tire silica advance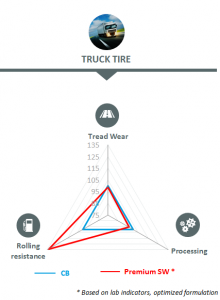 Hannover, Germany - Solvay has launched a highly dispersible silica (HDS), which it claims can significantly improve the performance of energy-saving tires, and reduce fuel consumption and CO2 emissions.
According to Solvay, tests on truck tires have shown a 30% improvement in rolling resistance compared to carbon black truck tires, while the tread wear is the same.
The product, said An Nuyttens, president of Solvay's silica global business unit, "meets all of the tire industry's strict safety and performance requirements and [will help] car makers to meet their sustainability objectives in lowering fuel consumption and CO2 emissions,"
Solvay said it can now supply the new silica from its sites around the world.