ANRPC: NR price rebound to continue in 2017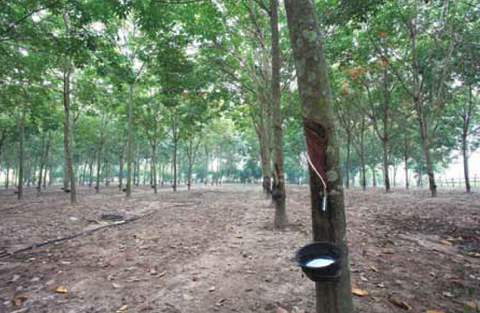 Kuala Lumpur – Last year saw a rebound in natural rubber prices, particularly in the fourth quarter, driven by recovery in crude oil market, supply concerns, renewed expectation of a US-led faster global economic recovery and the resultant improved demand outlook, the Association of Natural Rubber Producing Countries (ANRPC) has reported.
In its latest Natural Rubber Trends & Statistics, published 13 Jan, the ANRPC noted the impact of a recovery in crude oil price. This was driven by the OPEC's deal on 30 Nov 2016 to cut output by 1.2 million barrels per day (bpd) for six months from January 2017.
"While Brent crude oil prices rose 24% from end of September to end of December 2016, rubber prices (SMR-20 in Kuala Lumpur) jumped 43% during the same period," the report said.
Citing a 10 Jan US short-term energy outlook, the association said Brent crude oil is expected to average at $53 per barrel in 2017, up 20.5% from $44 per barrel in 2016.
The anticipated higher feedstock prices, said the ANRPC, could make synthetic rubber materials more expensive in 2017, thereby offering better prospects for natural rubber growers.
Meanwhile, another contributing factor to price-recovery was bad weather, which affected natural rubber supply. According to ANRPC, 12 provinces in south Thailand have been severely affected by the region's worst floods in the past three decades.
Thailand accounts for 37% of the global supply of natural rubber and 70% of the country's output comes from the south, the association pointed out.
"According to a preliminary assessment made by the Rubber Authority of Thailand, the flood is likely to shave out at least 360,000 tonnes from Thailand's output of NR expected in 2017. The country will be able to produce only 4.381 million tonnes in 2017 as against 4.741 million tonnes originally expected," said the report.
In addition to the shortage in Thailand, during the three years from 2014 to 2016, global supply of natural rubber, including non-ANRPC, fell by 0.6% average annual rate whereas the demand grew at 3.2% rate.
Based on preliminary estimates, said the report, global supply of NR stood at 11.975 million tonnes during 2016, which was short of the corresponding global demand by 655,000 tonnes.
Another important factor is the global economy, which according to an IMF's World Economic Outlook in October will grow at a rate of 3.4% in 2017, faster than 3.1% rate in 2016.
"Based on the emerging global economic scenario anticipated by IMF, global supply of NR will be short of demand by 350,000 tonnes during 2017," said the ANRPC.
The expected deficit in supply of natural rubber, is therefore, likely to be more severely felt during the period up to May 2017 on account of seasonal factors affecting the supply.
In addition to a favourable demand-supply fundamental and anticipated trends in crude oil market, natural rubber market during 2017 is expected to gain from improvement in commodity prices. IMF predicts a 10% jump in the index of "all commodities" in 2017 as compared to 2016.
Despite the positive outlook, ANRPC said that there was "very limited" possibility for a substantial rise in rubber prices during 2017.
This, it said, is because supply has the potential to increase much beyond the expected level if prices scale too high, which can prevent the market from scaling substantial up.