Opinion: Tire labels stuck in a rut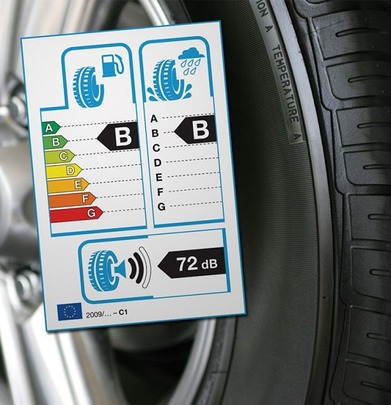 London - Almost four years after its introduction, the jury is still very much out whether the EU tire label rating scheme for wet grip, rolling resistance and noise, is doing more harm than good.
Proponents argue that since tire labelling came into force in November 2012, the ratings have given drivers valuable information about the safety and environmental performance of tires.
On the other hand, sceptics and outright opponents believe that tire labels are misleading, not least because they focus on just three of a myriad of, often conflicting, parameters that determine performance over the lifetime of a tire.
This week – for a European road safety day, - the European Tyre and Rubber Manufacturers' Association (ETRMA) – issued a statement highlighting the contribution of tire labels to safety and the environment.
The EU label, it noted, carries three vital pieces of information about the tire and helps to explain the economic, environmental and safety benefits to the consumer.
"These provide the proper information that is needed in order to choose better performing tires in order to keep European traffic travelling safely," the association added.
The trouble is that most people are, by and large, ignoring tire labels, either because they are more interested in price or – as is the case particularly in Germany – believe the label ratings lack credibility.
As Fazilet Cinaralp, secretary general of the ETRMA, pointed out: "Nearly four years after the introduction of the EU Tyre Label, tire choice is still widely dominated by price considerations. The tire label remains underused by many consumers.
"We believe that the uptake and credibility of the label would be enhanced by increasing market surveillance."
According to Hans-Juergen Drechsler, managing director of the German tire trade association the BRV, the EU labelling scheme has no significant influence on the tire aftermarket in Germany.
"A major reason for the lack of influence of the tire labelling for the consumer is that there is no real/effective product monitoring (whether in Germany or in Europe). Therefore, there is no control of values, which are claimed by the manufacturers," he suggested.
But tire labelling could start to have a bigger impact on the European tire industry – and not, necessarily, in a good way.
As ERJ has previously reported, market analysts are now noting a trend whereby tire labelling is helping to increase the flow of imported budget tires into Europe.
As well as being very price competitive, these imports "are performing well in meeting the labelling characteristics," according to Gerard Stapleton, head of South East Asian research at market research company LMC.
For similar tire-label ratings, Stapleton estimated that low-cost tires are about 15 percent cheaper than quality tires and 25 percent cheaper than premium tires.
This week, the ERJ Daily Newsletter also reported on the progress of China's plans to introduce its own mandatory tire labelling scheme by 2018.
While this will give a much needed boost to the standard of tires on Chinese roads, it could, arguably, help further increase demand for low-cost tires in Europe.
Yet, another factor to consider is the now mandatory use of tire pressure monitoring systems in new vehicles sold in Europe The dashboard warning system will, some believe, make drivers less inclined to bother about the quality or state of their tires.
When it was first introduced, EU tire labelling was seen as a first step towards improving the standard of tires on European roads. However the consumer response to and awareness of the scheme has, to date, been disappointing.
Without much greater enforcement and monitoring by authorities across EU member states, and the introduction of greater rigour into the rating-scheme itself, tire labels are at risk of becoming even more of an irrelevance.