Sri Trang: Buyers beware of under-the-weather rubber tappers!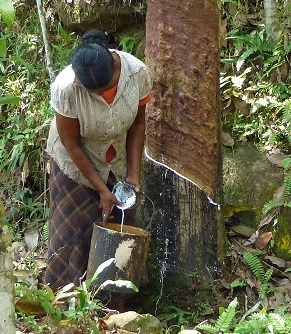 Bangkok – The continuing slump in natural rubber (NR) prices could be storing up problems for buyers further down the line, according to Sri Trang Agro-Industry Public Co Ltd.
"Rubber farmers are demoralised by the low NR prices and reduce tapping activities. All of this could conceivably lead to a shortage of labour and, eventually, a shortage of NR supply," the Thai group warned in a second-quarter results announcement.
The past few months have seen a rally of NR prices from lows in the first-quarter, said Sri Trang, which linked the recovery to drought and a prolonged wintering period brought on by El Niño,
The weather affect coupled with the imposition of an export quota by Thailand, Malaysia and Indonesia, led to a decrease in NR supply, the group noted. This, in turn, accelerated purchasing activities, which further helped support NR prices.
Following the volatility in Q2 2016, the NR market is expected to stabilise with limited downside risk, forecast the group. This, it said, was due to the curtailing effect of El Niño during first half of the year – and La Niña in the second half – on rubber yield.
On the other hand, Sri Trang said negative market sentiment was likely to persist due to concerns over China's slowing economy, as well as uncertainties surrounding both US interest rates and Brexit.
These concerns, it said, "will have an impact on the currency market and fund flows as well as prices of all commodities… and conspire to keep the NR market in [the] doldrums and keep investors on the sidelines for the short-term."
Sri Trang, however, concluded that in the longer term, "the prolonged period of low NR prices, which have somewhat recovered but still remain depressed, will have significant implications on rubber production."
The warning accompanied second quarter results showing that Sri Trang's sales volumes for the three months to 30 June grew 34.1 percent year-on-year (YoY) to reach 360,906 tonnes.
This, noted Sri Trang, was a record for the second-quarter, which seasonally coincides with the wintering period, when rubber supply is normally low.
Helped by "effective" inventory management, the group's gross profit margin for Q2 2016 increased to 10.3 percent, while net profit margin was 4.3 percent.
Second quarter revenues from all products was 18,751.6 million Baht (€481.6 million), an increase of 24.4 percent YoY and 12.3 percent quarter-on-quarter (QoQ), Sri Trang reported
The group linked the YoY increase to the higher sales volume, which offset an 8.4-percent decline in average selling price. The QoQ increase was linked to a 15.7-percent increase in average selling price, which offset a marginal decrease of 0.6 percent in sales volumes.