Upstream costs curb Chinese tire makers' overseas ambitions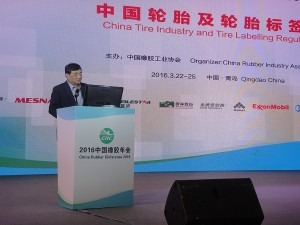 Qingdao, China – High upstream cost is the major holdback for Chinese tire makers' overseas manufacturing projects, according to Hangzhou Zhongce Rubber's chairman Shen Jinrong.
Such overseas plants continue making upstream purchases – synthetic rubber, carbon black, antioxidants, steel cord and the likes – from China suppliers. Low export tax rebate for such products and high logistics expenses have made China suppliers' prices considerably higher than local prices, up to over 100 percent higher in Thailand where Zhongce has opened a 5.8 million unit/year plant.
Six Chinese tire makers have started overseas manufacturing projects so far, three in Thailand, with more than $1.6 billion total investment.
"Such elevated costs are causing serious problems to Chinese tire makers' competitiveness," Shen said during his speech at the 2016 China Rubber Conference in Qingdao this March.
China's One Belt One Road programme, President Xi's development initiative aiming to promote closer cooperation between China and the surrounding regions, is providing such upstream companies with good opportunities, he added.
"The initiative calls for collective efforts. It's not something that can be accomplished by a single company."