Manuli extends position in South America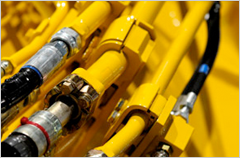 Rotterdam, The Netherlands – Fluiconnecto by Manuli, part of Manuli Rubber Industries (MRI) has recently acquired 35 percent of the shares of the MAN-PAR Group with operations in Colombia.
With projected 2015 sales of $8 billion colombian pesos (€2.1 million), MAN-PAR provides replacement industrial & hydraulic parts and services to mining, oil & gas, construction, agriculture, transport and industrial markets in Colombia.
Fluiconnecto by Manuli, is an international service organisation, focused on high-pressure fluid connectors, providing products and application knowledge, as well as maintenance services.
MAN-PAR's network of four 'hydroshops' and six on-site workshops will extend Manuli's position as a service provider in South America: the company already has maintenance operations in Argentina and Peru.
"With MAN-PAR on board, Fluiconnecto will operate a network of almost 140 fully owned hydroshops and almost 110 on-site workshops in South America, Europe, the Middle East, Africa and the Asia Pacific region," said Manuli.