Conti making OTR tires at Eurotire plant in Romania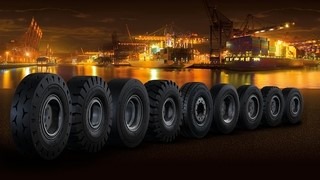 Hanover, Germany – Continental Commercial Specialty Tires (CST) has started manufacturing two new radial construction tire lines at the Eurotire manufacturing plant in Romania, according to a company spokeswoman.
The new OTR radial tires, she added, were developed, specified and released by Continental CST and manufactured in collaboration with Eurotire.
According to Contiental, with 230.000 square metres of area, the Eurotire plant offers "plenty of production capacity as well as state of the art manufacturing machines".
Commenting on the partnership, the spokeswoman said that Continental CST provided the expertise in the development and specification of Specialty Tires, while Eurotire offered its experience in the field of manufacturing in the construction and mining segment.
The first tire versions – the ContiEarth EM-Master (E3/L3 and E4/L4) and the ContiEarth RDT-Master E4 – were launched in August 2015.
"The tires are already available in most markets such as in Asia, the Middle East, Europe and Africa," Conti told ERJ, adding that the tires will be officially launched in Americas in time for MINExpo 2016 (26-28 Sept).
According to the spokeswoman, the tread pattern designs have been newly developed and are suitable for different environments, ranging from soft, muddy soil to solid terrain.
ERJ will report further on this project in its Jan/Feb issue of the magazine.