EU car demand keeps momentum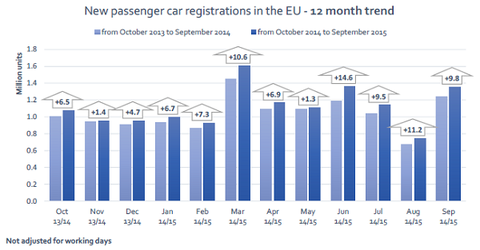 Brussels – EU passenger car market registered its 25th month of consecutive growth in September with a 9.8-percent rise compared to the same month in 2014.
According to the Brussels-based European Automobile Manufacturers Association (ACEA), all major markets showed growth, driven by ongoing scrappage schemes and by the economic recovery of southern Europe.
Spain continued at the top with a 22.5-percent growth, followed by Italy at 17.2 percent, France at 9.1 percent, the UK at 8.6 percent and Germany at 4.8 percent.
With over 10 million units sold over the past nine months, EU passenger car demand registered an 8.8-percent growth compared to the same period the year before.
The figures are, however, well below the 2007 high of 12 million units for the first nine months.
Spain and Italy were the main contributors to the growth in that period, followed by the UK, France and Germany.