Pirelli backs UK apprenticeship charter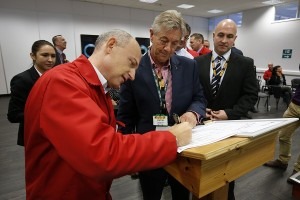 Carlisle, UK  –  Pirelli UK is supporting the Apprenticeship Charter, a skills and training initiative being championed by union Unite and trade unions body TUC, the tire company announced 9 Oct.
The management signed the charter on 1 Oct at Pirelli's Carlisle facility in front of representatives from the unions, skills body Cogent as well as apprentices and managers within its engineering, maintenance and quality departments.
Pirelli's apprenticeship scheme has been running at its UK facilities in Burton and Carlisle for over 40 years. It includes quality apprenticeship, which develops people for management and supervisory roles, and an engineering apprenticeship.
"Pirelli continues to be very committed to the vision of high quality apprenticeships as part of its investment into the future growth of the business, which is why we have decided to sign the Apprenticeship Charter," said Andrew Cross, Pirelli HR manager.
"Around 10 percent of the workforce in the engineering department are apprentices, and we couldn't function without them. We believe they should all be supported in order to reach their full potential," added Cross.
Tony Burke, Unite assistant general secretary, responsible for manufacturing added: "By signing the Apprenticeships Charter, Pirelli is demonstrating a long term commitment to the industry and UK manufacturing.
"We hope this will set an example to other companies in the area and industry and shows that there are benefits for both employers and employees by working together."