Unvulcanised tire rubber can 'heal' self - study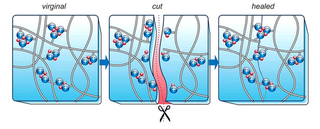 Dresden, Germany — Unvulcanised, tire-grade bromobutyl rubber can be made to heal cuts or tears through ionic modification, according to a group of German and Finnish researchers.
The research study was published 2 Sept. in the American Chemical Society journal ACS Applied Materials and Interfaces.
"Chemical cross-linking of rubbers by sulphur vulcanisation is the only method by which modern automobile tires are manufactured," according to the abstract of the paper titled "Ionic modification turns commercial rubber into a self-healing material".
Vulcanisation substantially reduces rubber's viscous properties, the abstract said. But taking commercially available bromobutyl and transforming its bromine functionalities into ionic imidazolium bromide groups creates cross-linking abilities without vulcanisation, it said.
"The reversibility of the ionic association facilitates the healing processes by temperature- or stress-induced rearrangements, thereby enabling a fully cut sample to retain its original properties after application of the self-healing process," the abstract said.
The rubber's mechanical properties, including elastic modulus and tensile strength, actually improved with ionic modification compared with vulcanisation, it said.
Testing showed that a cut in the ionised bromobutyl healed in eight hours at room temperature, according to an ACS press release dated 23 Sept. After eight days, the rubber could withstand stress of 754 pounds (342kg) per square inch, the ACS added.
Heating the rubber to 212 F (100 degrees centigrade) for the first 10 minutes accelerated the repair process, and reinforcing agents such as carbon black or silica would further strengthen the rubber, the ACS said.
However, it noted that the rubber prototypes may be unstable over time, and the researchers are addressing that problem.
Led by Amit Das of the Leibniz Institute for Polymer Research in Dresden, the researchers came from that organisation and also the Technical University of Dresden and Tampere University of Technology in Tampere, Finland. They received funding from the Deutsche Forschungsgemeinschaft, an organisation that provides funding for research in all branches of the sciences and humanities.