Future Tire Conference 2016: Call for papers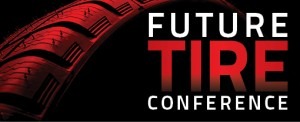 Deadline 28th September, 2015
We are now inviting technical papers from individual market/technology experts and organisations that operate in all areas of the supply chain, from research and development, the supply of materials and equipment through to the design, manufacture and distribution of tires.
Send your speaking proposals by Monday 28th September to be considered for the Future Tire 2016 conference programme.
Click this email link  to send your proposals, or to request more information.
More information on the conference is available at its website.
(Only papers that are strictly non-commercial will be considered for inclusion).
About the Future Tire Cnference at Reifen 2016
The conference will focus on current trends that are shaping the future of the tire industry.
Representatives from international associations, tire makers and their suppliers as well as automotive OEM's will discuss topics ranging from business trends in global tire markets to new advances in manufacturing and materials technologies. There will also significant focus on regulatory developments and issues around sustainability.
We expect the Future Tire 2016 programme to provide new and unique insights into current trends in the tire markets of Europe, the Americas and Asia and to showcase exciting new developments in raw materials, systems, processing equipment and manufacturing technologies.
Speaking opportunities
If you or your organisation want to take advantage of the opportunity to present your latest research, developments and/or new technologies to decision makers in the tire industry, please review the information below and email Lucy Queenan – Conference Manager at lqueenan@crain.com
Register your interest by sending your name, job title, company name, contact details and presentation title by 18th September, 2015.
Topics
The following list of potential main themes should act as a guideline but are not limited to:
* Global Tire Report - FT Business Forum
* What will the Tire market look like by 2020?
* Tire Recycling Forum
* Tire Regulation - What's coming next?
* Markets for tire recyclate materials
* Future Factories & Supply Chain Forum
* Factory of the Future
* Supply Chain
* FT Technology Forum - Future Tires & Materials
* New Tire Design
Click this email link  to send your proposals, or to request more information.