Hankook advances non-pneumatic, urethane tire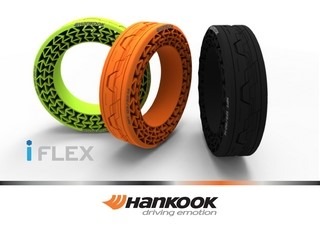 Seoul, South Korea — Hankook Tire Co. Ltd has completed ride and handling tests for its latest non-pneumatic tire (NPT), the Hankook iFlex, which it said is made using "ecofriendly" materials.
Hankook said it had been working on developling an NPT since 2011 and that the iFlex was the fifth such concept tire to be released.
The iFlex is an airless tire concept that uses a structure of connected spokes to absorb bumps. It is constructed of recyclable, highly elasticated polyurethane synthetic materials.
The tire makerhas put the iFlex through a serious of tests designed to push the tires to their limits in five categories: durability, hardness, stability, slalom and speed.
In the speed test, the electric car equipped with iFlex tires was said to have reached 81 mph. The results in all five categories demonstrated that the NPTs could match conventional tires in terms of performance, Hankook claimed.
Construction of the iFlex is centred on a new polyurethane type of "uni-material designed to maximise the tire's ecofriendly potential," the tire maker said.
The material used during product construction enhances energy efficiency and improves the tire's recyclability.
Hankook said it is also integrating new tire construction techniques to simplify the manufacturing process to four stages from eight stages, thus reducing the company's carbon footprint.
"The Hankook iFlex's ability to deliver the perfect high-speed driving performance is the result of Hankook Tire's longstanding commitment to independently developing progressive, innovative tire technology," said Seung-Hwa Suh, Hankook Tire vice chairman and CEO.