Continental posts 8% rise in quarterly profits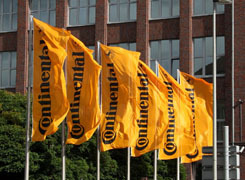 Hanover, Germany – Continental AG has increased its sales forecast for the current fiscal year from about €38.5 billion to more than €39 billion following what it called "successful start to the new year".
In a first quarter financial statement, the international automotive supplier, tire manufacturer and industrial partner's CEO, Elmar Degenhart said that the first quarter showed that the company was "growing faster than the markets".
"Positive effects of foreign exchange are adding to this. We expect this positive development to continue. Furthermore, we anticipate a tailwind of around €150 million for the year as a whole due to the ongoing stable price trend for rubber and the lower price of crude oil," he added.
Conti's rubber group, which manufactures tires as well as rubber parts and systems, generated first quarter sales of just under €3.7 billion and stabilised the adjusted EBIT margin at the previous year's level of 17.0 percent of sales.
Continental's sales climbed by 14 percent, year-on-year, to €9.6 billion during the first quarter.
As at 31 March, earnings before tax increased by 8.3 percent, year-on-year, to €978 million. The adjusted EBIT climbed by 10.4 percent, year-on-year, to more than €1 billion.
Furthermore, Continental said it continued to generate strong cash flow as in the previous fiscal year.
"Free cash flow before acquisitions increased significantly, year-on-year, from €81 million to €318 million or by €237 million. Taking into account the acquisition of Veyance Technologies that closed in January, free cash flow amounted to -€271 million," said chief financial officer Wolfgang Schäfer.
We are very confident that we can generate free cash flow before acquisitions of at least €1.5 billion for the year as a whole," Schäfer added.