EU car market registers first annual growth for six years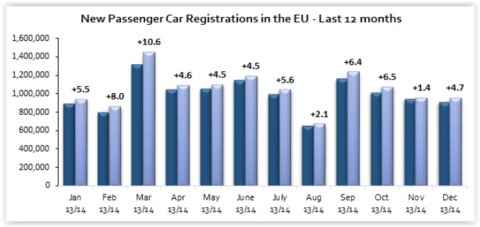 Brussels – The European Automobiles Manufacturers Association (ACEA) has announced that the EU continued to register a growth in its car market for the 16th consecutive month in December 2014, ending the year on a high note.
According to the ACEA, EU passenger car registrations recorded a growth of 4.7 percent, reaching 951,329 units sold.
Looking at the largest markets, said the report, the demand increase was mainly led by the significant growth recorded in Spain (21.4 percent), followed by the UK (8.7 percent), Germany (+6.7 percent), and Italy (2.4 percent). France performed less well than in the same month with a 6.7-percent decline.
In the year 2014, a total of 12,550,771 new passenger cars were registered in the EU, added the report.
"With 5.7 percent growth posted in 2014, new car registrations increased for the first time since 2007," ACEA said.
Spain, UK, Italy and Germany led the growth with increases of 18.1 percent, 9.3 percent, 4.2 percent and 2.9 percent, respectively.