UK car markets hit 10-year high in 2014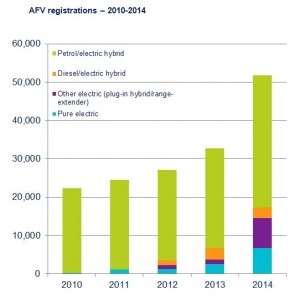 London, UK – The Society of Motor Manufacturers and Traders (SMMT) has published a report saying that UK car registrations hit a 10-year high in 2014, with over 2.47 million new cars registered.
According to the report, 2014 was the fourth highest year, after 2002, 2003 and 2004, in terms of total number of car registrations.
With 2,476,435 new cars registered in the UK in 2014, the market grew 9.3 percent over the previous year, ahead of the EU average of 5.7 percent. The UK remains the second largest market in EU – behind Germany and ahead of France, Italy and Spain.
The UK market has shown progressive increments every month for the past 34 months, said the report adding that a considerable growth was observed in the plug-in car market which saw volumes quadruple from 3,586 in 2013 to 14,498 in 2014.
UK new car registrations returned to pre-recession levels in 2014, as pent-up demand from the recession years combined with confidence in the economy saw consumer demand for the latest models grow consistently and strongly, said Mike Hawes, SMMT chief executive.
"The year was particularly strong for alternatively-fueled vehicles as increased choice, coupled with a growing desire for reduced costs and greater efficiency, resulted in a quadrupling of plug-in car registrations over 2013," said Hawes.
"With a variety of new plug-in models expected in 2015, this area of the market will continue to grow significantly. For the market as a whole, we expect a more stable 2015 as demand levels off," he added.
The report also highlighted that the past 15 years have seen a "shift" in the types of cars that people are buying, with two trends particularly evident.
"As buyers seek lower running costs, demand for small cars (Mini and Supermini segments) has grown. The latest small cars offer significant advances in comfort and safety levels.
"A more recent trend is the strong growth of the Dual Purpose (4×4, crossovers) and Multi Purpose segments, with buyers attracted by the extra space, style and versatility offered by these models," the report concluded.