Guanlian sets the pace for China's rubber industry
ERJ X Guanlian Special Feature: China's biggest rubber compounder offers a full spectrum of solutions
As the biggest rubber compounder in China, Guanlian offers a full spectrum of rubber solutions, including those based on NR, EPDM, NBR, SBR, BR, ACM, FKM and silicone – supported by advanced black, colour, calendering, straining and atmosphere-controlled production capabilities.
Established in 2007, Guanlian constructed its first plant at Taicang in 2009, followed two years later by the addition of a phase II facility at the Taicang, Jiangsu province site in 2015.
Employing over 500 people, the Taicang operation today has an annual production capacity of 100 kilotons and fixed investment assets worth about USD70 million.
A further compounding plant was subsequently established in late 2017 at Linshui Sichuan, near Chongqing, a major hub for China's automotive industry.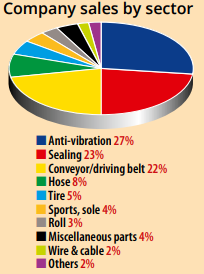 With two kneader mixer lines and a gear pump strainer, the Sichuan unit offers final-batch compound to the automotive and other industries in southwest and central China.
In 2019, the company changed its name from Taicang Guanlian to Jiangsu Guanlian as well as drawing up plans for an IPO, which it is currently preparing for. Further growth in demand led Guanlian to establish a new facility in Wuhan, Hubei – again a major Chinese automotive industry hub – in 2021
That year also saw the company launch construction of a fourth plant in Guangdong. Located at Panwan Chemical Industrial Park in Wuhan New Port, the mixing centre started production with two 190E and two 150L mixing lines. Two further 250E mixers started operation there in 2022.
To better serve customers in the south of China, Guanlian established Guangdong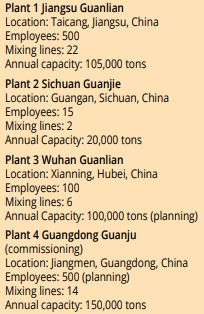 Guanju New Material Technology Co. Ltd in Jiantao Industrial Park, Taoyuan, Heshan, Jiangmen, as a local R&D production, sales and service base.
Scheduled to start up in early 2024, the Guangdong plant will employ around 500 people at full operation.
With 90,000 square meters floor space, the new facility houses 14 advanced mixing lines including 55L,135L,190L,200L,320,430L mixers, mostly from HF and Kobelco, with both intermesh and tangential capability.
The Guangdong project is at the forefront of China's national sustainable development strategy: further reducing the CO2 footprint of the national rubber industry.
In establishing and upgrading its facilities, Guanlian has maintained investment to minimise environmental impact, in line with national and local policies.
This programme has included the installation of advanced air-purifying equipment as well as automated operating and monitoring systems to prevent emissions of dust, oil-mist, odour and other discharges to the environment.