Tire Technology Expo: Back to the future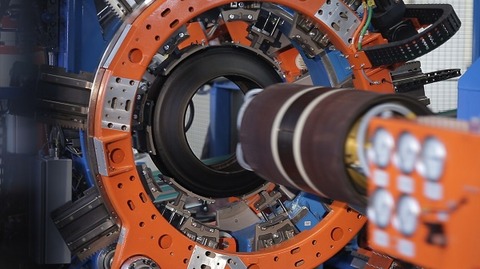 Annual show is once again fully geared up to showcase developments and technologies that will shape the tire manufacturing industry of tomorrow
With Tire Technology Expo set for its 22nd staging in Hanover, Germany this March, and after the challenges posed by the global pandemic, ERJ asked founder Tony Robinson for his views on the development of the annual exhibition and conference event and the tire industry more generally.
Robinson, first got involved with the tire manufacturing industry in 1992 and "immediately became fascinated" by the complexity and also apparent secrecy of what was generally regarded as a slow-moving industry that was reluctant to change.
"Nothing, as it turns out now could have been more incorrect," recalled Robinson, adding that, today, the "scientific achievements and speed-of-adoption of all things, from simulation, to automation and miniaturisation of some of the processes, and the sheer scale of intellectual advancement, are breath-taking."
Tire Technology Expo, according to the event founder, plays a "really pivotal role" in bringing all the players together for the advancement and future of everything that's new and developing in tire design, development and manufacturing.
"When launching the expo back in 2001, I had a sense and feeling that I would be running Tire Technology Expo many years into the future. The 2023 event will be the 22nd staging: and there's still a long way to go," said Robinson.
Like all industry exhibitions and conferences around the world, the annual Hanover tire show was brought to a standstill by the onset of the global pandemic in mid-2020.
During the worst of that period, especially in 2021, Robinson said "we did succeed in running some conference content on virtual platforms, which at least enabled good quality exchange of information and industry-to-industry, peer-to-peer connection and discussion."
However, the situation "underlined the fact that there is no substitute for person-to-person meetings and even more so it proved quite clearly that the act of demonstrating new machinery and presenting new materials is something that can't be done 'virtually'," he stated.
In late 2021, the event organiser did run a limited number of exhibitions that were "greeted with a huge sigh of relief" by exhibitors and last year ran a full portfolio of international shows that saw a rapid rebound at every level.
"In 2023, we are already seeing events outgrow their best pre-pandemic performances," reported Robinson. "The appetite for these events from visitors and exhibitors is stronger than ever and we look forward to delivering great shows.
"Some audiences may be missing short-term, including most notably China which continues to suffer major disruption from Covid, though this is likely to settle down by the middle of the year."
Asked to identify key themes and topics at Tire Technology Expo 2023, Robinson firstly picked out sustainability, commenting that "the dots are being more comprehensively joined in the pursuit of a true circular economy" with more and more bio, recycled or sustainable raw materials making their way into tire production.
Manufacturing methods, he continued, are also improving, using machine learning, AI, advanced sensors, connectivity, and digitalisation to improve productivity and reduce carbon footprint. This, coupled with improvements on the recycling side, "is creating a more sustainable tire from cradle-to-grave."
At the Tire Technology Expo 2023 conference, sustainability will be the focus of presentations by speakers from Michelin, Repsol, the World Business Council for Sustainable Development, Total Energies, Apollo Tyres, Cabot, BKT and Decathlon, among others.
Another key topic will be simulation & testing, Robinson noting the increasing use of AI technology in tire-making processes: from compounding-prediction through to assessing final tire performance.
"More accurate modelling is still the goal, in theory reducing the need for slower and more time-consuming physical testing," he commented. "That said, physical testing still has its place, with NVH and EVs as an example. Testing also circles back to environmental impacts from things like particle wear."
Among others, simulation & testing will be the focus of presentations by the European Commission (EC), Hankook, Goodyear, Michelin, Jaguar Land Rover, ZF, Siemens, Continental and VMI at the tire industry conference (see also p21).
The EC talk will focus on a regulatory amendment made by the UN on the wet grip performance of worn tires, for which the European body will evaluate full tire-aging and wear tests.
Advanced tire manufacture will be addressed in a conference session on IoT, digitalisation, automation and Industry 4.0, which will include a presentation on cybersecurity from Siemens. Papers on machine learning, connected tires, sensors and RFID, meanwhile, will include a Continental presentation on how AI can enhance tire manufacturing.
Also of note is a paper from GDSO, which will provide an update on the proposed Tire Information Service, a tire data and identity standardisation for the industry.
Robinson went on to highlight a short course on tire modelling and simulation, led by tutors from GM, Calspan and Jaguar Land Rover. Aimed particularly at vehicle dynamics engineers, researchers and engineering managers, the three-day course will focus on computer-modelling of tires within a full vehicle system.