Driving energy efficiency in the tire & rubber industry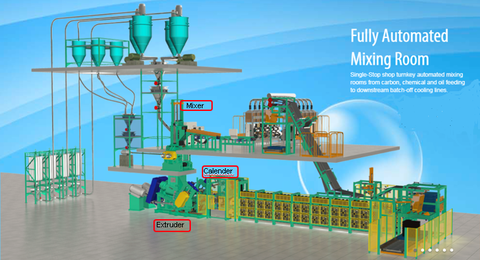 Motors and drives are key to optimising rubber mixing and other energy-intensive processes, Fausto Belotti of ABB explains in an interview with ERJ
Electric motors and variable speed drives (VSDs) – as used in most processes central to the manufacture of tires and general rubber goods – consume over 40% of all electricity used to power industry worldwide.
Maximising the efficiency of this equipment is, therefore, key to meeting the tire & rubber industry's climate goals for step-change reductions in both energy-consumption and greenhouse gas emissions.
The focus areas are clearly the highly energy-intensive processes, including internal mixing, extrusion and calendering, the 'mixing room' or 'compounding line', but also auxiliary processes, such as cutting, conveying, cooling and stacking.
When it comes to energy-efficiency, the mixing process is of particular importance, given the high levels of power and control required in converting rubber raw materials and additives into specialised compounds.
Motors and drives play an important role in optimising rubber mixing and other processes, according to Fausto Belotti, global segment manager at ABB's rubber and plastics drive products division.
Latest technology
Increasingly, he said, tire and rubber-product makers need to get fully up to speed with the latest drives & motors technologies: understanding which can best deliver the required reductions in energy-consumption and emissions going forward.
"ABB supplies the necessary information to the end-users, the tire makers and rubber processors," explains Belotti.
Tire and rubber companies, he said are "increasingly, very interested in highly energy efficient systems, because the power involved in their processes is huge. Saving just 1% though energy efficiency means a lot of money, especially with today's spiralling electricity costs."
While much focus is on the energy-efficiency, there is also a need to inform end-users about serviceability and maintenance issues around drives and motors.
Saving money at the initial stage in these areas can lead to major costs further down the line, cautioned Belotti, adding that "there must be a good balance across all the goals of the end-user."
In this arena, Belotti points to the emergence of synchronous reluctance (SynRM) motors that while "costing a little more" than regular induction motors deliver much higher levels of efficiency.
"Due to the advanced technology within SynRM motors, they use much less energy," said Belotti, adding that "given today's high energy prices, payback times of just a few months are possible."
One particular advantage is that the inherent 'zero slip' performance of synchronous technology allows the selection of smaller frame-size motors, thereby delivering immediate capital-cost savings to the end-user.
For example, a classic combination of IE5 SynRM motors and VSDs can reduce energy losses by up to 50% compared to IE2 induction motors and 40% compared to IE3 , said Belotti.
Energy bills
Replacing legacy motors with a SynRM and VSD package, he continued, typically reduces energy bills by 14 to 25%. "Lower energy use also means that the total cost of ownership (TCO) will be reduced too. In fact, the price of a motor is only a fraction of the cost (2%) of the energy used to run it.
"In addition, IE5 SynRM motors have the same dimensions and output power as induction motors, so no mechanical modifications are necessary. They are easy to retrofit in place of older induction motors."
Lower energy-consumption, the ABB expert further emphasised, "helps to cut emissions of greenhouse gases, making SynRM motors a more sustainable choice than induction motors."
An added environmental sustainability benefit is that SynRM motors do not contain any rare earth materials, unlike permanent magnet synchronous motors (PMSM), noted Belotti.
On the drives side, by using a 'low harmonic drive' solution, a key consideration is the reduction or elimination of harmonics, which can cause interruptions, interference and downtime by 'polluting' electrical networks – causing connected equipment to perform erratically.
Furthermore, harmonics can cause damage to sensitive electronics, circuit breaks, interference in communication equipment and even false readings on measurement devices. Other potential impacts include overheating of transformers, cables, motors, generators and capacitors.
As well as leading to expensive downtime, Belotti pointed out that plant equipment is often oversized to tolerate harmonics, leading to higher investment and running costs and underutilised capacity.
As "prevention is better than a cure," the ABB manager recommended the latest ultra-low harmonic drives that, compared to a conventional drive, can reduce harmonic content by up to 97% versus standard drives equipped with a six-diode pulse supply unit.
These compact drives, he said, eliminate the need for external filters, multi-pulse arrangements or special transformers, while "simple installation" offers significant space, time and cost savings.
Ultra-low harmonic drives achieve a unity power factor, so that electrical energy is used efficiently, said Belotti, explaining that "this efficiency means that you could potentially select a motor that is one size lower. In addition, because you don't have to consider reactive currents you can select small cables, which again offer a cost saving.
Improved efficiency
Furthermore, a low harmonic drive can also be used as a power factor compensator to correct the line reactive power – in other words by using the latest drive technologies in combination with SynRM motors in tire and rubber manufacturing processes you can achieve better overall system efficiency and less carbon footprint with significant cost savings."
As an indication of rising demand for these technologies, that major companies both tire manufacturers and rubber goods producers are now starting to standardise globally on low harmonic drives and SynRM motors for retrofitting and new plants, the ABB manager concluded.