Latest synthetic rubber pricing data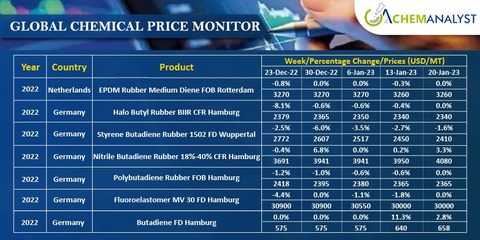 Weekly data compiled by ChemAnalyst based on selected commodity trading activity in Europe
London – ChemAnalyst data for the trading week ended 20 Jan, shows butadiene pricing in Europe (FD Hamburg) making gains for the second week in a row.
In general, other commodities were stable, though styrene butadiene rubber prices (FD Wuppertal) continued a slide noted over recent weeks.
Nitrile butadiene rubber made the biggest gain, up 3.3% from the week before – in trading tracked in Hamburg.
The compiled figures are from the following specific trading-points monitored by ChemAnalyst:
*Synthetic rubber prices compiled exclusively for ERJ:
EPDM medium diene FOB Rotterdam, The Netherlands
Halobutyl rubber BIIS CFR, Hamburg, Germany
Styrene butadiene rubber 1502 FD Wuppertal, Germany
Nitrile butadiene rubber 18-40% CFR, Hamburg, Germany
Polybutadiene rubber FOB, Hamburg, Germany.
Fluoroelastomers MV (25-61) FD Hamburg
Butadiene FD Hamburg