Bridgestone report finds major savings from switch to EV fleets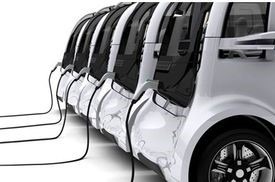 Webfleet data shows potential savings of up to €3,600 per vehicle each year
Amsterdam – European fleets using electric vehicles (EVs) can save up to €3,600 on average per vehicle per year, according to Bridgestone Corp.
Citing data from its Webfleet connected fleets business, Bridgestone said operators could also save 5,665 litres of fuel and 15 tonnes of CO2 per vehicle a year by switching from internal combustion engine models to EVs.
Webfleet published the data, collected during the first six months of 2022 and based on an average price of €2/litre of diesel, in the first instalment of its 'electrifying data' reports.
The series of reports is intended to "map the commercial EV opportunity" in telematics data, Bridgestone said in a 10 Jan statement.
The first report provides insights on the level of cost, fuel and carbon emissions reductions that are possible via fleet electrification.
It also shows the differences in the average cost savings from country to country.
For instance, in the UK and in The Netherlands, the annual cost savings per vehicle of switching to electric can reach up to €3,800 and €3,500 respectively.
In Denmark, France and Spain, the figure is between €2,000 and €3,000 euro while in Germany, Italy and Poland the savings are up to €2,000, Bridgestone said.
Webfleet enables users to access the "fleet electrification report" which shows which of your vehicles could be replaced with an EV.
"After fuel prices rose in March of this year, we saw a 300% increase in usage of this tool," said Taco van der Leij, Vice President of Webfleet Europe.
"It's clear electrification of fleets is top of mind for many businesses," he added.