Datwyler advances elastomers technology for electric vehicles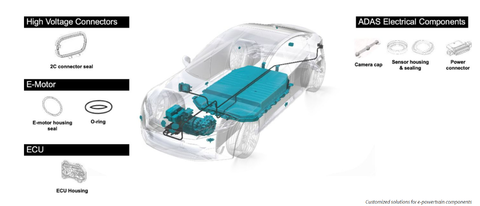 Swiss group focuses on new materials, technology to address requirements of EV industry
Altdorf, Switzerland – Datwyler Group is increasing its focus on elastomers technology for electric vehicles (EVs) to support OEMs and other players in developing e-powertrains.
Activities are being directed particularly on applications requiring "highly advanced multi-functional materials", the Swiss group said in report issued 14 Dec 2022.
"For example, for thermal and filtration systems we are in the process of discussing the use of electroactive polymer (EAP) technology in sensors or actuators," stated Datwyler.
Furthermore, the Altdorf-based group is working on introducing 'thermal interface materials' (TIMs) for use in rubber thermal pads to conduct heat from vehicle electronics to a cooling plate.
Datwyler has also developed electromagnetic interference (EMI) shielding materials to protect sensitive electronics and sensors frim high voltages in the system and signal turbulence.
Signal turbulence, the statement explained, can be very noticeable, especially when a system is switched on or off under high voltage.
Electric conductive material can therefore help minimise corrosion of an assembly caused by the static that occurs as a result of high-speed rotation.
In this arena, Datwyler pointed to the progress of its ETEMI project in the development of 'electrically and thermally conductive & EMI shielding materials."
These material matrixes, it noted, mainly comprise of elastomers that can be both electrically and thermally conductive or thermally conductive while being electrically insulating.
In terms of sealing systems for e-powertrains, Datwyler said it was "carefully analysing" a range of solutions for multiple surfaces that must be sealed effectively.
These include gaskets made from rubber, edge-bond and liquid silicone rubber (LSR) as well as two-component (2K) solutions.
Furthermore, the supplier said it offers "a large selection of elastomers" for O-rings to seal practically all liquid and gaseous media, covering system-critical applications within e-powertrains.