Vehicles of the future open door for advanced rubber technologies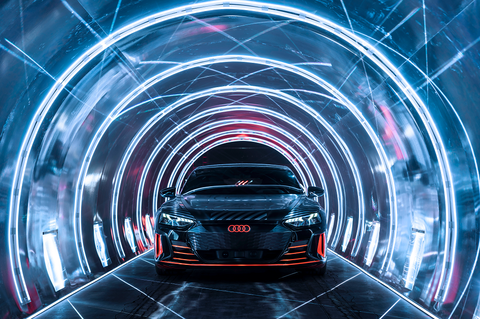 Electric vehicles are continuing to drive advanced R&D across all areas of the elastomers/rubber industry
The accelerating pace of developments in the market for electric vehicles (EVs) is continuing to drive technology developments among machinery-makers, materials suppliers and processors within the elastomers/rubber industry.
Feedback from major players in this space points to significant progress being made at all stages of the development process, from R&D to commercialisation as well as planning for further advances to meet the requirements of the automotive industry over the next five years and beyond.
According to Klaus Kammerer, technical service & development consultant at the Celanese Mobility & Materials business, "before this decade is over, more than two out of three cars produced in the world will be either fully battery-powered or with a hybrid propulsion system."
Tier suppliers, he adds, are "meanwhile, scrambling to maintain their business supporting ICE-powered vehicles while also setting themselves up for the electric future. The rapid pace of change puts pressure on automotive-systems suppliers to find materials that meet new CTQs [critical technical qualifications] for EVs, and ideally for both ICE and electrically powered vehicles."
Water/glycol remains the most common cooling technology for batteries and because it is not too aggressive, non-oil-resistant sealing materials like EPDM or silicone rubber (liquid (LSR) or high consistency rubber (HCR) can be used as seals for water/glycol systems.
However, an increasing number of cooling systems in EVs have not just water/glycol but also include oils for lubrication – for these, neither EPDM nor LSR work well.
This claims Kammerer, is the 'sweet spot' for Vamac ethylene acrylic elastomer (AEM), which due to its chemical composition offers a "unique combination of low temperature flexibility and resistance to heat, oil, water/glycol, acids, and bases as well as outstanding compression-set and compressive stress-relaxation resistance."
For electric and hybrid vehicles, "there is significant interest in specifying [AEM] as a gasket material for high voltage connectors that are injection moulded from non-halogenated flame-retardant polymers, as well as for critical components of EVs such as traction motor, battery, and others," concluded Kammerer.
Today, the battery is the current solution to switch between petrol and electric power, tomorrow it will be the fuel-cell powered with hydrogen, believes Thorsten Just, global sales and marketing director at REP International. The levels of investment indicate that this fuel cell technology is the next solution – about Ä9 billion by 2030 for Germany and Ä7 billion by 2030 for France.
In this domain, elastomer/rubber has an important role to play to insulate the devices: battery boxes are insulated by a gasket, while fuel cells need high-precision gaskets to insulate the bipolar plates (BPP) in the stack devices.
REP machines are able to produce the gasket for both technologies, offering adaptability to provide solutions to inject elastomer/rubber material on a metal support to insulate the battery box, from small- to huge-sized applications, such as for truck cells (1.5 x 2,1m).
For smaller applications, these electric machines can be used to reduce the overall energy consumption to produce the stacks reduced by 40% compared to other machines, continues Just.
For fuel cells, the challenge of tomorrow is the switch of manufacturing scale, from laboratory to mass factory. Here, REP has been working for several years to develop solutions to produce injected gaskets on the bipolar plates – on one face or two faces simultaneously.
"The efficiency and stability of the fuel cell is ensured by different components and the bipolar plates represent 80% of the fuel cell market," said Just. "The gasket between each cell is, therefore, also important, in particular in term of safety."
Due to the adaptability of the design, these machines can inject all the compounds – silicone, FKM, etc – and gasket material on the bipolar plates on single or double face, within fully automated systems that offer a springboard for increased productivity, repeatability and, therefore, production capacity.
"The injection moulding machines, cold runner blocks and moulds are delivered as turnkey solutions for the moulding of gaskets on the bipolar plates, with precise thickness of 0.2 mm to ensure the dimension of final stack without deviation of the total high," explains Just.
The next step for the development of fuel cells will be centred on power efficiency and cost-reduction to produce the complete stack, according to the REP director: "Together with increased durability – due to better cooling and new materials for gaskets – these technologies will significantly increase production efficiency in this important domain."
According to Dirk Lambrecht, CEO of Datwyler, the Swiss group is strengthening its patent position in the area of electroactive polymers, including in a unique stacked design that enables completely new applications in the car of the future. Target areas range from thermal management in electric vehicle batteries to haptic feedback and 'morphing' surfaces in human-machine interface applications.
The strategy has seen the group obtain several patents with the acquisition of the Swiss start-up CTsystems as well as work with the spin-off from the Swiss Federal Laboratories for Materials Science and Technology (EMPA) since 2018.
Basically, electroactive polymers convert electrical energy into sensitive and versatile mechanical motion through elastic deformation. They can be used, for instance, in actuators and sensors to control switches, locks, valves and to operate pumps.
Within electric vehicles, they can be used for thermal management of batteries, as well as actuation of mechanical components, dashboard vents or valves for pneumatic massage seats for drivers and passengers.
Further examples include haptic feedback on displays and on the steering wheel, or control elements morphing out of the plain surface and becoming active when approached.
The patented solution makes possible for the first time to produce stack actuators on an industrial scale, opening the door for the introduction of advanced alternatives to conventional actuator technologies in a range of application areas.
Advantages of the new technology include: lower energy consumption, fewer mechanical parts, low weight and volume, a robust and durable design, and noise-free operation with sensor and haptic feedback functionality.
Datwyler is currently working to build the proprietary, highly automated production line at its existing Swiss plant. Lab samples, it reported, are already available and delivery of the first industrial prototypes is planned for early 2024.
Discussions with existing and potential customers, as well as initial development projects, show that both vehicle manufacturers themselves and suppliers of technical systems and interiors are very interested in the new possibilities offered by stacked electroactive polymers," said Lambrecht.
Transition temperature
For Dr. Thomas Stratton, tire and compound application leader at Synthos, a crucial and accelerating trend with the electrification of the automotive industry is the use of solution styrene-butadiene rubber (SSBR) grades with a low glass transition temperature (Tg) in passenger car tire tread compounds.
As well as demand for improved rolling resistance and wear resistance, the increased weight, instant torque and driving-range limitations of EVs have given performance improvements a new urgency, he notes.
"Tg strongly influences tread compound performance properties," says Stratton. "Formulations incorporating low-Tg SSBR grades generally provide low rolling resistance and good wear properties, as long as tensile and mechanical strength can be maintained."
These materials, he adds, will, therefore, play a major role in the navigation of tire performance to these new shores for both passenger and eventually commercial vehicles: allowing tire developers much more freedom to use performance-enhancing additives, lower levels of butadiene rubber and even full SSBR compounds.
"Wet grip – generally associated with a higher Tg – can be compensated for by adding resins at levels previously unattainable," Stratton continued. "A low-Tg base polymer allows for compound recipes to support a better balance of lower rolling resistance, better wet grip and abrasion resistance."
Synthos newest low-Tg SSBR functionalised and non-functionalised commercial grades for carbon black and silica tread compounds provide low rolling resistance, "excellent" winter properties, very good wear and dynamic stiffness as well as non-functionalised low Tg SSBRs offering low rolling resistance, low heat build-up and "excellent" wear.
The company's proprietary functionalisation technology is said to provide better wet-grip and lower rolling resistance for ultra-high performance tires at a relatively low Tg, with synthetic rubber grades also available as bio/circular-attributed materials under ISCC Plus certification.
Stratton went on to report that Synthos will be introducing several new low Tg SSBR products to the market from March 2023, that focus on novel functionalisation technology. These, he said, will provide "further benefits in rolling resistance performance, while balancing the processability of compounds and mechanical characteristics."
Meanwhile, adoption of low Tg SSBR grades is also expected to increase significantly in truck and bus tire silica tread compounds over the next few years, according to the Synthos expert.
Important role
At Wacker Silicones, Dr. Martin Bortenschlager, director of business team engineering silicones and responsible for Europe, Middle and Near East, Africa and Latin America, says the unique properties of silicone elastomers have an important role to play in electromobility and, it follows, in sustainable transportation for the future.
"Silicone elastomers do more than just make electric vehicles more reliable – they make them last longer, too. They also reduce the need for repairs and the replacement of parts, which helps prevent waste. And in addition to all that, they are easy to process and support automated mass production."
In EVs, for example, electrical lines have to be connected and disconnected for assembly and maintenance work. The fastest way to do this is to use electrical connectors. These frequently have a silicone seal to prevent moisture, dust or road salt from penetrating the housing.
Seal designs include single wire and radial seals as well as multi-cavity seals. For applications like these, Wacker offers liquid and solid silicone rubber products that exude silicone fluid after curing. Products with intrinsically dry, but lubricating surfaces are available as well and especially suitable for e-mobility applications.
Elastosil LR 38xx is an oil-bleeding liquid silicone rubber (LSR) that reliably seals connectors. The LSR is injection moulded and exudes a silicone fluid shortly after curing which forms a lubricating layer that facilitates the assembly of the connector in the desired socket.
The product remains flexible at low temperatures, withstands exceptional heat and is usable within a range between -55°C and +210°C. The volatile content is extremely low, facilitated by Wacker's advanced processing technologies, says Bortenschlager.
Elsewhere in the silicones arena, Dow has recently introduced a liquid silicone rubber (LSR) with tailored adhesion properties and designed specifically for automotive applications.
The LSR adheres to PBT and PA66 substrates and, so, can be used in two-component injection mouldings for connector seals within battery electric vehicles, explains Jason Treharne, Dow Silicones EMEA regional marketing manager, industrial, electrical and mobility silicone elastomers.
A special feature is that the product offers a 12-month shelf-life which, according to Treharne, is "actually quite long for a selective adhesion LSR. This gives the fabricator or the tier one more flexibility to react to peaks and troughs in demand as well as bringing benefits in terms of reduced scrap and improved material inventory handling. "Bonding, he added, is "robust and instant and there is no need for further post-curing to build up the adhesion."
Dow has also introduced HCR silicone-based custom compounds for electric vehicle cable installations: the materials are designed to meet high-performance requirements for distributing power between battery packs and motors within EVs, hybrids or plugins.
A key criteria, noted Treharne, is that the compound meets the LV 216/1 standard – covering heat-ageing resistance and retention of elongation properties of 'shielded high-voltage sheathed cables for motor vehicles and their electrical drives'.