Bridgestone launches proof of concept for rubber-powered 'soft-robot hand'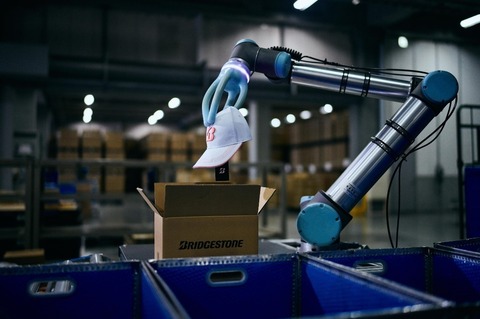 Rubber actuators used for piece-picking robots that will help mobility of people, objects
Tokyo – Bridgestone Corp. has launched a proof of concept (PoC) project for using soft-robot hands to automatically perform piece-picking at its logistics site.
The project will involve robots picking and transporting individual items in a trial run, towards commercialising the group's 'soft robotics business', Bridgestone announced 28 Nov.
The initial goal is to achieve "small-scale commercialisation" of soft-robotics via work with various partners under the group's next 'mid-term business plan', covering 2024 to 2026.
Positioned within Bridgestone's diversified products segment, the soft-robotics business aims to harness "the power of rubber [to deliver] safe mobility and movement of people and objects."
The unit combines Bridgestone's expertise in rubber, road contact and hose development to develop rubber actuators for robotic arms, the group further stated.
Rubber actuators, it continued, will address issues such as labour shortages and demand for non-contact interactions through automation of tasks that currently require human hands.
In July, Bridgestone said it implemented a PoC projuect in which it provided rubber actuators for use in automated piece-picking processes within logistics warehouses.
Automatic piece-picking, it explained is a "demanding problem" as it is difficult for a single conventional robot to pick up objects with various shapes, levels of rigidity, and weights, such as tubes, bottles, and pouches.
However, according to the Tokyo group, a single soft-robot hand equipped with Bridgestone's rubber actuators is able to achieve "just the right" grip of various objects.