UK to maintain anti-dumping duties on Chinese tire reinforcement materials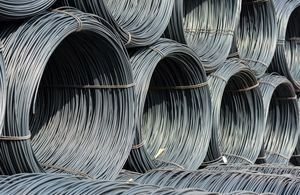 Duties on wire rod range from 7.9% to 24%, and will continue for another four years
London – The UK government has decided to continue anti-dumping duties on the import of wire rods originating from China, following an investigation by the Trade Remedies Authority (TRA).
In a statement 10 Nov, the government announced it was accepting TRA's recommendation to maintain the existing measures for a five-year period to 30 Jan 2026.
The duties, ranging from 7.9% to 24%, were to expire in January 2021, but a transition review was initiated in February to continue the measures.
"The TRA's investigation found evidence of high production and significant inventories of wire rod in China suggesting that dumping would be likely to occur again if the measures were removed," the statement added.
According to the UK government, wire rod in the UK is predominantly used in construction, tire reinforcement and steel springs in vehicles.
The UK market for the product is estimated to be worth more than £740 million (€850 million) per year.