Toyoda Gosei revises up sales target, maintains profit outlook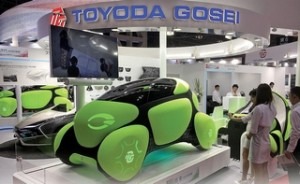 Lower revenue from Japan to be offset by overseas recovery
Tokyo – Automotive parts supplier Toyoda Gosei has raised its full-year outlook for revenue while maintaining previously announced operating profit targets amid slow sales in Japan.
In its second quarter results published 1 Nov, the Japanese group said it now expects sales to come in at Yen920 billion (€6.3 billion), up from the initial forecast of Yen860 billion.
The outlook for operating profit remained unchanged at Yen43 billion, as the local automotive industry continued to be impacted by semiconductor shortages.
During the three months to end of September, Toyoda Gosei reported a 0.7% year-on-year decline in operating profit to Yen12.2 billion, on 67% higher sales of Yen454 billion.
Higher sales were achieved "despite production cutbacks by major customers due to semiconductor shortages in Japan," said Toyoda Gosei.
The group linked the rise in sales to a recovery in overseas car production and the foreign exchange impacts of a weaker yen.
Lower sales in Japan and a "one-time loss" in the region, however, led to the decrease in operating profit, the group added.
In the Americas, revenue increased significantly due to a recovery in the automotive segment and the strong dollar.
Operating profit in the region also increased due to higher sales, "rationalisation more than usual", and the reducing influence of the market.
Asia also saw both revenue and profits increasing, due mainly to higher sales and a weaker yen, reported Toyoda Gosei.
In Europe and Africa, excluding foreign exchange impact, revenue decreased in real terms.
Toyoda Gosei's operating loss in the region increased as a result of the liquidation of its UK subsidiary and lower sales in South Africa due to flooding.