Sealing sustainability for hydrogen fuels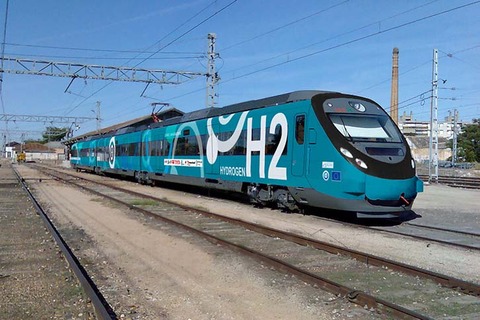 Rubber manufacturers at the cutting-edge of fuel-cell developments for the energy, transport and automotive sectors
London – In keeping with the role which their products play in many critical applications, seals manufacturers are at the heart of developments in the global drive to reduce carbon emissions and deliver long-term improvements in environmental sustainability.
This reliance on sealing technology is particularly evident in the early-stage adoption of hydrogen-based fuels within the energy, transport and automotive sectors as a carbon-free alternative to the use fossil-based energy and resources.
Italian seals manufacturer MCM High-Performance Sealing SpA, for instance, has reported a dramatic increase in enquiries about hydrogen seals since 2020 and expects levels of interest to rise further in the near future.
"Investment in hydrogen technology is massive right now," said Raffaella Villa, business development engineer at the Bergamo-based supplier of rubber seals for the automotive, aerospace and oil industries.
"Gas is a tricky one for elastomer seals, especially hydrogen," explained Villa. "There are completely different requirements to be met than for liquids – in addition, hydrogen is the smallest molecule of all."
Slowly diffuse
As the gas can slowly diffuse through the molecular structure of polymers, a particular focus is on the permeability of elastomer compounds. And, while the high pressure in the pipelines makes hard elastomers the most likely choice, not all compounds behave in the same way with hydrogen.
Moreover, although hydrogen itself does not damage elastomers chemically, environmental conditions can create challenging in-use issues.
"We are currently working on identifying the best materials but do not want to rely purely on theory and literature," said Villa.
While FKM and HNBR have already been floated as potential solutions for hydrogen, MCM also wanted to investigate precisely which elastomer is most suitable for which function.
This involves producing a ranking system for hydrogen applications: MCM is having its entire portfolio permeability tested by an external laboratory.
In general, the higher the pressure or temperature the more permeable the seals become, while chemical resistance can also be a requirement in some applications.
All these factors limit the choice of elastomer – and usually a compromise is sought, said MCM, which aims to present its customers with more reliable data on applications involving hydrogen.
"The portfolio is already enormous, but we would nonetheless be prepared to develop new elastomer compounds for hydrogen seals," Villa explains. "At the end of the day, they would also be of interest to other industries such as the automotive industry."
In the aviation industry, seals manufacturer Greene Tweed says interest in this arena is being driven by studies showing hydrogen can supply up to three times the energy than what jet fuel offers on a mass basis.
However, hydrogen brings environmental challenges to storing and transporting it, both on the ground and on the aircraft, the company noted in an online report.
Research engineers are exploring advanced materials that can support new aircraft design and operations, airport infrastructure, and fuel supply chain.
Among the main challenges is permeation, particularly as hydrogen is an exceptionally light, low-density gas, which can penetrate any type of polymer materials and metals, noted Green Tweed.
When combined with high pressure or pressure cycling applications, hydrogen permeation can generate rapid gas decompression (RGD) issues, it added.
Depending on pressure and temperature levels, Greene Tweed recommends special O-rings made from FKM or metal spring energised (MSE) PTFE lip seals that offer "exceptional" resistance to hydrogen exposure.
Back at MCM, work in this field includes a collaboration with forged steel ball valves maker, Starline SpA to develop valves used for the production of green hydrogen, "where service in 97% vol hydrogen" is required.
Starline requires advanced sealing technology to support its supply of hydrogen pipeline valves to companies, explains MCM. Clients, it said, include Spanish energy giant Iberdrola, which is "investing billions of euros in the production of green hydrogen."
The current project for Starline required exceptionally hard seals that can withstand pressure to 35 bar – but also modest temperatures from minus 10 to 65˚Celsius, said MCM.
"Starline could use one of the compounds in our portfolio to develop valves for its Iberdrola project, but we are now checking what our portfolio can further deliver," the Italian company added.
In the aviation sector, meanwhile, there is likewise an increasing focus on the use of green hydrogen generated by using renewable energy sources, such as wind and solar.
The challenge of formulating elastomer compounds for fuel cell applications was the focus of a presentation at this year's DKT conference by Stephan Zepnik of Mocom Compounds, who explained that migration of volatile components or ions from sealing materials can cause degradation that reduces the performance and lifetime of these systems.
Low-emission materials
This points to a need for low-emission materials with high purity, alongside good sealing performance, low compression-set, long-term chemical and hydrolysis resistance, good processability and competitive costs, said Zepnik.
In response, Mocom has developed high-purity thermoplastic vulcanisates (TPVs) under the Alfater XL FT brand for use in fuel cell components, such as gaskets or filter over-mouldings.
Based on polypropylene and crosslinked EPDM, the TPVs are characterised by high purity and low emission levels, stated Zepnik, who presented results from tests to determine emissions VOCs and semi-volatile 'fogging' compounds indicating the suitability of materials for critical fuel cell applications.
In developing the new high purity TPVs, Mocom found it had to address issues such as the negative effect of processing by injection moulding on the emission values as well as the need to minimise the potential for contamination of the fuel cell by ion leaching.
Electrical conductivity measurements of ion-leaching in de-ionised water were used to further evaluate the contamination potential of the TPV compounds for critical fuel cell applications.
Zepnik said measurements showed that the ion leaching potential could be reduced by a factor of three with the new TPV materials and that solely emission optimised materials were not sufficient for critical fuel cell applications such as seals.
Another route to enhanced sustainability is to reduce the proportion of fossil-based substance within elastomer seal compounds, while also reducing the weight of parts used in industries such as automotive.
Renewable fillers
Again at DKT, Standard Profil Automotive of Düzce, Türkiye and Leuna, Germany-based UPM Biochemicals presented a joint study on the performance of an EPDM weatherstrip sealing system incorporating UPM BioMotion renewable functional fillers (RFFs) (page 35 lead image).
Compounds using the lignin-based RFFs as an alternative to fossil-based fillers such as carbon blacks were found to show promising mechanical properties, in particular compression set as well as allowing lower-density products.
In this study, rheological and mechanical properties of sulphur-cured EPDM rubber compounds with different types of sustainable renewable functional filler (RFF) for vehicle sealing system application were investigated.
Among other findings, the study team reported that while compounds including RFF exhibited lower tensile strength that conventional materials, tear strength and elongation-at-break results were increased.
"RFF is a decent choice for providing sustainability in compounding since it has a lightweight nature and a more than 90% lower carbon footprint emission when compared to traditional carbon black," the presenters stated. "Consequently, extrusion of sustainable sealing solutions appears possible in a next step."
In another DKT paper, titled Improving the Elastomer Sealing Performance in Hydrogen Fuel Cells, Nahal Wesemann of Arlanxeo Deutschland GmbH, Cologne, Germany, said that recent breakthroughs in hydrogen fuel cell design had led to compact light-weight constructions suitable for automotive and industrial applications.
Polymer electrolyte membranes (PEMs) for automotive applications operate at pressures ranging from near ambient to about 700kPa and at temperatures between 50°C and 90°C. The higher the pressure gradient the higher the permeation rate through the PEM the more power generated.
However, permeation loss of flammable and expensive hydrogen fuel through hoses and seals can lead to safety concerns and lower the efficiency of electrical power generation.
In a study, Arlanxeo evaluated and compared properties such as H2 permeation resistance, low temperature properties, chemical resistance and mechanical properties of different vulcanisates.
The permeation coefficient was measured at ambient temperature at 10bar on vulcanised compounds with only 20phr of white filler. However, LSR was measured at 3bar due to very high permeation rates, that was above the measuring limit of the device.
The test showed that butyl, FKM, HNBR and NBR (34% ACN) would be materials of choice if used in applications where very low gas permeation is necessary. On the other hand, if the cold temperature flexibility is the most important factor, then butyl, EPDM, NBR (18% ACN) and silicone rubber were found to be the best choices.