Weir doubles rubber production at Malaysia plant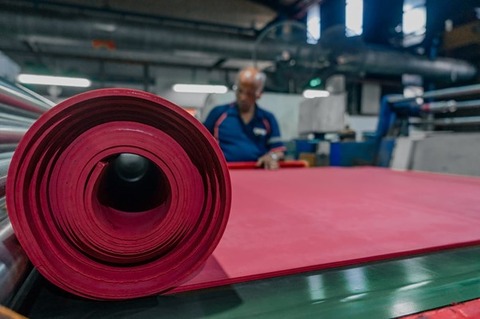 Rubber products used in mining, minerals processing and industrial applications
Kuala Lumpur – Weir Minerals has made a £13-million (€15 million) investment to double rubber manufacturing at its facility in Batu Caves near Kuala Lumpur.
The new expanded site, which was opened 28 Sept, includes a new continuous rubber process (CRP2) facility, a new Banbury mixer to manufacture masticated dry rubber and additional rubber presses, said Weir in a statement.
The facility features "state-of-the-art" equipment and produces Linatex-branded rubber products, which are used to protect equipment in mining, minerals processing and industrial applications.
"The investment in the CRP2 allows us to increase the production capacity for the high wear and abrasion resistant Linatex rubber sheet," said Stephen Frendt, managing director, Weir Minerals Malaysia.
The rubber mixing process expansion, on the other hand, is an upstream vertical integration of the supply chain which manufactures masticated dry rubber compounds such as R55, he added.
Linatex is a vulcanised natural gum rubber, which is produced through "a unique liquid-phase proprietary process," according to president Ricardo Garib.
The product is 95% natural rubber made from latex.
The Malaysian facility has been claimed to have "the lowest energy consumption compared to other rubber suppliers to the industry."
As part of the expansion project, Weir has installed a new solar energy system on site to further lower energy consumption and cut greenhouse gas emissions by almost 900 tCO2e/year.
In addition, the continuous rubber process has minimal waste, and the mixing requires less energy compared to other rubbers, according to Weir Mineral.